Hispanic Lawmakers Are 'Furious' at President Obama for Punting on Immigration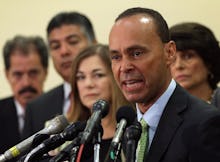 Democrats, prepare to be disappointed.
On Saturday, President Obama announced that his planned executive actions on immigration would be delayed until after the 2014 midterm elections, breaking a promise he made in June to have the immigration orders in force by the end of the summer. Though he cited the ongoing child refugee crisis at the border as cause for the delay, the president is likely looking to protect vulnerable Senate Democrats as they enter a heated 2014 midterm season.
The decision has had immediate consequences. Hispanics across the country are "furious," reports Reuters. Congressmen Luis Gutierrez (D-Ill.) and Tony Cardenas (D-Calif.) hit the airwaves to harshly criticize the president, with Gutierrez telling ABC'sThis Week that the president wasn't doing something he could be "proud of" and Cardenas adding on CNN's State of the Union that "I don't like what the president's advisers may be telling him."
Immigration activists were quicker to the point. United We Dream's Cristina Jimenez said, "The president's latest broken promise is another slap to the face of the Latino and immigrant community." America's Voice founder Frank Sharry said, "We are bitterly disappointed in the president and we are bitterly disappointed in the Senate Democrats."
Prior to Obama's decision, three anonymous senior Democratic election strategists told the Guardian that the president had been repeatedly urged to forestall the executive actions until after the midterms or risk losing several battleground states where Republicans are waging competitive Senate races. In particular, Alaska, Louisiana, North Carolina and Arkansas could all be flipped by unpopular unilateral moves on immigration, like slowing deportation rates or increasing the number of work permits. If three out of four of those states went red, Democrats would lose the Senate and the election would be a complete rout for the party.
A set of polls released on Sunday shows that Republicans are already pulling ahead of Democrats, with a New York Times analysis giving the GOP about a 61% chance of gaining control in the Senate. An NBC/Marist poll shows that races in Kentucky, Arkansas and Colorado are very competitive, meaning Democrats have little incentive to rock the boat with risky moves on immigration.
Pew polling has shown that the American public is leaning more conservatively on immigration reform than in recent years, likely spooking Democrats in competitive districts:
It's not surprising that Hispanic voters are angry about the decision to delay immigration reform, considering Pew found that just 15% of them "think better border security and stronger enforcement of immigration laws should be the priority." But among Democrats, support for those same measures rose from 14% to 19% in just one year, meaning that it's a less palatable position for liberals in swing states to endorse.
"I still think Democrats have fumbled this issue because they allow the issue to be played on Republican terms," Democratic strategist Steve Jarding told The Hill. "Republicans are trying to suggest immigration is the reason wages are suppressed and it's a racial issue. I don't like it. That's what they're doing cynically. They're saying when you get immigration, you suppress the wages of non-immigrants, i.e. white people."
It's hard to see Obama's decision to forestall the changes as anything but a naked political move, seeing as he promised just months ago to have the orders in place around now. For now, immigration reform remains dead as a doornail, like so many other critical issues that can't be resolved in D.C. these days.