The Most Powerful Protest Musician of Our Generation Won't Let You Forget Ferguson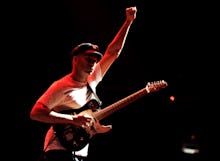 Though protests have quieted down in Ferguson, Mo. in the past week, the fight for justice is far from over — the trial of the officer who shot unarmed 18-year-old Michael Brown in August has yet to begin, and the Ferguson police force will soon be investigated for possible civil rights violations.
The news cycle may be moving on, but Tom Morello, of Rage Against the Machine and Audioslave fame, has an incendiary new song, "Marching on Ferguson," that won't let America forget.
He premiered the song at a benefit concert for Jail Guitars Doors Rock Out!, an organization that provides prisoners with musical instruments to help with their rehabilitation. There are few venues more appropriate for a song demanding an end to our country's endemic racism — our prison and police systems are its great perpetuator. Statistically, 3 out of 4 young black men will serve time for drug-related offenses, and they will serve 20% longer sentences than white men for identical charges.
Morello is well aware of these facts, and that's why he's been keeping his eyes on Ferguson, sharing news and thoughts on Twitter as recently as Sunday night, when he tweeted a Boing Boing article showing St. Louis police fingerprinting young children in Ferguson.
But Morello's most powerful weapon has always been his music. All of his musical projects have thrived on the idea that change will not come unless people get mad, get out in the streets and make themselves heard.
"People have been gassed and pepper-sprayed for a long time," Morello said in a recent interview with The Believer. "If you want to change the world right now, it's not so much a secret how you do it. You put the secrets of a criminal government on the Internet. You turn out by the hundreds of thousands in the streets of São Paulo or the tens of thousands in Istanbul. The people who are out there with their hands on the wheel of history are not hidden right now."
Morello is right. The only way people can make change is to go out and seize it. Morello's music has consistently been the perfect soundtrack to help inspire the necessary revolutionary feelings, and "March on Ferguson" is no different — it's a reminder that The Nightwatchman is still out there.