10 Rules to Not Be "That Guy" in Your Fantasy Football League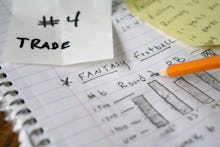 Fantasy football has grown from niche interest to billion-dollar industry, but with mainstream popularity has come an influx of players with bad habits and worse etiquette. If you can't spot the buffoon at your draft table, the you are the buffoon. Here are 10 rules to not be "that guy" in your fantasy football league.
1. Set your lineup, stupid.
Keep the competitive balance alive, numbnuts. Even if you're out of contention, it's not fair to the other teams to stop caring. If you're playing the team I'm neck and neck with for that last playoff spot and you start two injured players, I'm going to cut you.
2. Remember, "fantasy" means "not real."
Don't let imaginary slights bleed into real life. Yeah, your buddy tried to hoodwink you with Wes Welker for Drew Brees, but he wasn't trying to offend you personally. There isn't a league-wide conspiracy against you. There's no need to agonize over your struggling team or flubbed draft pick like you do a sick child.
3. If you're a lawyer, don't argue rules like a lawyer.
Wait a minute, you're a lawyer? I didn't get that from the last thousand emails you sent. Choosing which round keepers start isn't tort reform, you pompous windbag.
4. No one cares about how you dominate your other league.
That couldn't mean less here. And we all feel like it's a lie — especially after you've finished in the bottom half of our league for the last six seasons.
5. Don't be a Michigan fan.
You people are the worst. Which day was worse for you, Wolverine diehards: The day Michigan lost to Appalachian State in the Big House, or the day you didn't get into Penn?
6. Don't fill our inboxes with nonsense.
While I'm sure that niche interests like the English Premier League and Big Brother have their merits, 80% of us couldn't give two shits about them. Coming back from lunch to see 30 emails about last night's house vote or Saturday's Stoke City-Arsenal match makes me want to quit the league.
7. Don't act like you're smarter than everyone.
Just because you were an all-conference high school football player doesn't mean you know more about sports than I do, you antagonistic douche. I'm sure it's made you a treasured commodity on your hedge fund's softball team. You only got into a good school because they wanted you for their D-II squad.
8. More players does not equal more value.
Your RB3, WR2 and Flacco does not equal Adrian Peterson. Also, look at other teams' rosters before offering trades. The team with Aaron Rodgers doesn't need Andy Dalton thrown in to sweeten the pot.
9. Sean Payton did not ruin your week.
You can internalize it, but don't tell a long story about how a real-life coach's strategy spoiled your fantasy week. Mark Ingram clearly deserved to get those red-zone looks. (And don't tweet at one of your players blaming them for you losing. Idiot.)
10. Pay your league dues on time.
Pony up. Just do it. Even — especially — if your team looks like it's bound for the bottom of the standings. Think of timely payment as fantasy football's thin blue line separating society from anarchy. Don't make your commissioner track you down like Dog the Bounty Hounter. It's never a good look.