One of the Greatest Folk Singers of Our Generation Is Finally Back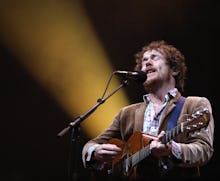 Getty Images
The news: After an eight-year silence, acclaimed Irish folk singer Damien Rice has a brand new album on the way. My Favourite Faded Fantasy will be his third full-length release and the first produced in collaboration with music legend Rick Rubin. Featuring eight new tracks and hitting stores in the U.S. on Nov. 9 courtesy of Warner Bros. Records, the album follows the middling critical performance but decent commercial success of 2006's 9 and his well-received 2002 debut album, O.
So what exactly has Rice been cooking up out of the spotlight? Here's a 1:46-minute teaser of the title track, which starts off slow, sad and evocative before exploding into a flurry of strings, vocals and drums. It sounds like Rice at his best, definitely recalling what All Music's Charles Spano described as "one long angelic hymn for an insane world with the intimacy of a friend playing guitar in your living room" in his review of O.
The singer has been a worldwide phenomenon since the smash success of that first record. That's when he scored hits with songs like "Delicate" ("Why'd you sing hallelujah / If it means nothing to you?"). But with that level of fame — and the intense emotional attachment of many of his fans — comes a certain degree of ridicule. Pitchfork's Amanda Petrusich called O "overwrought, acoustic sap" that relied on "whiny, sad-eyed cliches." The publication absolutely trashed 9 in 2006 for similar reasons. So maybe the time between albums was spent seeking out some necessary re-invention; the album press release, out on Monday, described the singer as "Intimate, frank and revitalized by making music again," and goes on to say, "'My Favorite Faded Fantasy' is a record that accepts one's faults but also begins, perhaps, to appreciate one's ability to grow up." 
After the eight-year gap, his fan base has grown up, too, but his enduring success and the excitement over the new album only shows that they haven't grown out of his music. This is going to be a very big deal.
Here's the track listing, courtesy of Consequence of Sound:
1. My Favourite Faded Fantasy