The Case for Vaccinating Your Kids, in One Alarming Chart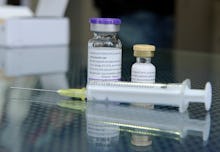 The news: If you need another reminder for why vaccinations are important, look no further than the graph below.
Last week, the Centers for Disease Control and Prevention (CDC) posted an update to the ongoing measles outbreaks in the U.S. According to the CDC, there have been 592 measles cases since the beginning of the year — which means that with four months left to go, this year's outbreaks are already the biggest since the disease was virtually eradicated in 2000.
Here is another graph to paint a more complete picture of the severity of the measles situation.
Why is this happening? According to the CDC, the outbreaks have been growing due to unvaccinated people traveling outside the country and bringing the virus back home. The anti-vaccination movement has also been linked to this measles resurgence due to the fact that communities with low rates of immunization are more at risk of a contagious outbreak.
And it's not just measles. There has also been a worrying series of whooping cough (pertussis) outbreaks throughout the U.S., especially in California. Measles is covered by the MMR vaccine (along with mumps and rubella), while whooping cough is covered by the DTP vaccine (along with diphtheria and tetanus).
Why is vaccination so important? It's important to keep in mind that no vaccine is 100% effective. In the case of the measles vaccine, the two-dose regimen creates immunity in 95% of people. But there is always risk of primary failure, which is when the vaccine fails to produce antibodies, or secondary failure, which is when an inoculated person loses immunity later in life.
Still, vaccination is a crucial component of maintaining "herd immunity," which is the idea that if the majority of a population is inoculated, it can stop chains of infection. Even if your body doesn't have 100% immunity against a disease, if others around you are immunized, you are less likely to contract the disease.
How dangerous is measles? It is a respiratory virus that causes rashes all over the body. Though it is a painful condition, it is rarely deadly: Only one or two cases out of 1,000 turn out to be fatal. Still, it can lead to serious complications that are better avoided. "We really don't want a child to die from measles, but it's almost inevitable," Anne Schuchat, CDC's immunization director, told USA Today. "Major resurgences of diseases can sneak up on us."
The simple fact of the matter is this: Vaccines are not dangerous, they do not cause autism and skipping out on them can be very dangerous to the person and their community. If that doesn't convince you, hopefully these charts will.