The WHO Has a Dire Prediction for Ebola Over the Next Three Weeks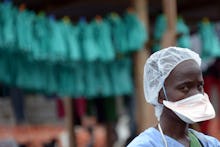 Update, 10:50 a.m. ET: The World Health Organization says the number of Ebola deaths in West Africa's epidemic has risen to 2,296 out of 4,293 cases.
The news: It's been six months since the Ebola epidemic in West Africa began, and not only is there no good news, but it may be about to get much worse. 
On Monday, the World Health Organization (WHO) announced that given the current rates and patterns of transmission, the worst Ebola outbreak in history — which has already claimed 2,105 lives in the region — is likely to continue to spread.
"Transmission of the Ebola virus in Liberia is already intense and the number of new cases is increasing exponentially," the WHO said in a statement. "The number of new cases is moving far faster than the capacity to manage them in Ebola-specific treatment centers. Many thousands of new cases are expected in Liberia over the coming three weeks."
There are a lot of challenges facing the aid workers. The lack of a working vaccine, infrastructural inadequacies, misinformation, distrust of institutions, and clashes between the public and the government have all been damaging contributing factors. But the most frustrating issue is that there simply aren't enough resources to handle the overwhelming number of infected patients, which allows the virus to spread even further.
"As soon as a new Ebola treatment facility is opened, it immediately fills to overflowing with patients, pointing to a large but previously invisible caseload," the WHO said. "When patients are turned away ... they have no choice but to return to their communities and homes, where they inevitably infect others."
Border control is also difficult. Right now, the key issue is containing the virus and making sure that it doesn't spread past the affected region; the U.S. and U.K. militaries are volunteering personnel to help with this effort.
The average incubation period for Ebola is seven days, meaning it's possible for an infected airline passenger not to show any symptoms and carry the disease elsewhere. While Ebola is usually not transmitted until the patient exhibits obvious signs, the passenger could still bring the virus with them across borders, which is why in-flight screenings are not very effective. So far, countries in the infected zone have stepped up travel restrictions and mandatory screenings before flights, but that clearly hasn't been enough.
To further complicate the issue, these travel bans also make it harder for aid organizations to transport supplies and workers and have a negative economic impact in the region as well, prompting calls to ease up on the restrictions. Right now, there aren't any easy solutions to this epidemic, and it looks like things won't get better any time soon.