In Five Tweets, Lena Dunham Perfectly Sums Up People's Disgust With the NFL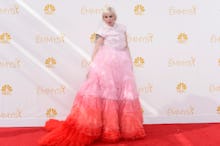 The news: Monday, TMZ released video footage of Ray Rice knocking his then-fiancée Janay Palmer unconscious. That same day, Rice was cut from the Ravens and suspended indefinitely from the NFL. 
Though many people were supportive of those moves, many criticized them for coming too late. Zerlina Maxwell, writing for Cosmopolitan, argued: 
"...the bottom line is that there are not that many different ways in which two people can get on an elevator, only to have one exit unconscious, especially since Rice admitted to hitting Palmer. And the Baltimore Ravens and NFL commissioner Roger Goodell knew this back in July."
Enter Lena Dunham. HBO's Girls creator began her response to the incident by retweeting Maxwell, but then started tweeting her own thoughts:
Dunham perfectly echoes the thoughts of people everywhere. The NFL's actions, though welcome, came much too late and prove that the league bends to bad publicity and nothing else — not even horrific domestic violence. 
Like the #WhyIStayed hashtag, which encourages victims of domestic abuse to share their stories, Dunham's response shows that social media can act as a conversation starter, particularly when it comes to difficult topics. Bravo Lena, we can use a voice like yours.
h/t BuzzFeed