The Islamic State Is Threatening to Go After an Unusual New Target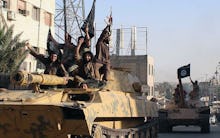 AP
The Islamic State has a new enemy: Twitter employees.
As the social media company races to ban accounts related to IS, an account associated with the militant group posted death threats against workers, according to Vocativ. The tweets, posted Sunday night, urged any potential attackers in the U.S. and Europe to "bring the war" to Twitter by assassinating employees.
"Our security team is investigating the veracity of these threats with relevant law enforcement officials," a Twitter spokesman told Mic in an email. The company banned the account in question, @dawlamoon, on Monday.
The @dawlamoon account identified itself as Al Nusra Al Maqdisia, a Jerusalem-based group that Vocativ notes associated itself with IS earlier this year. The account had about 3,000 followers at the time of its suspension.
Vocativ also translated the threatening tweets, which are no longer accessible thanks to the suspension. Here's a sample:
"#The_Concept_of_Lone_Wolf_Attacks The time has arrived to respond to Twitter's management by directly attacking their employees and physically assassinating them!! Those who will carry this out are the sleepers cells of death."
While IS and related groups have not been shy about making threats, most of their targets have been state actors rather than companies like Twitter. IS threatened Vladimir Putin over Russia's control of Chechnya earlier this year and warned Turkey that it would be "liberating Istanbul" after the Turkish government cut off a dam that had been providing IS-controlled territory with water.
In addition to direct threats, IS has kidnapped hostages of many different nationalities. It executed American journalists James Foley and Steven Sotloff and warned that British peacekeeper David Haines will be next.
Why threaten Twitter? As a free way to communicate anonymously, social media sites are vital to terrorist groups like IS. A tool like Twitter is especially important, since militants can use it both for communicating with each other and recruiting other users to the cause.
While Twitter has been cracking down on accounts like @dawlamoon, it can seem like a never-ending effort. An analysis by web company Recorded Future in conjunction with Sky News found that there were more than 27,000 accounts talking favorably about IS as of late August. When one account is shut down, the user or group can simply slightly alter the name and register again, starting the cat-and-mouse game anew.
While it may seem impossible to stomp out IS completely on social media, Twitter's efforts could be having at least some effect. The group probably wouldn't be calling for assassinations otherwise.