Apple Unveils New iPhones and 'Apple Pay' Mobile Payments System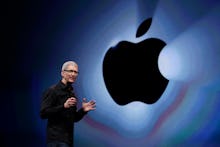 Here are some details for the new iPhones, per Apple's Phil Schiller: 
It's a fairly elegant system, says Apple CEO Tim Cook: Simply hold your iPhone up to a credit-card reader with your thumb on the fingerprint reader. Then again, there's a big problem:
The iPhone 6 will start at $199 on a 2-year contract, and the iPhone 6 Plus will start at $299. Both ship on Sept. 19 with pre-orders.