This Kid Visited the Oval Office and Got the Best Photo Ever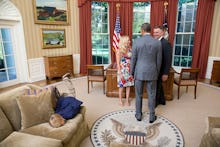 White House
Visiting the White House probably isn't so exciting if you're a small child. Sure, you get to meet the president, but you also have to get dressed up in your tiny suit and stand around for a long time. Maybe, if you're lucky, you get to meet Bo, but even that's not guaranteed.
This photo is a great encapsulation of what most kids must think when visiting the center of power of the most influential nation on earth — that is, not much. He couldn't care less, and it's perfect.
This little guy is the son of a departing Secret Service agent who was visiting the president with his family back in June. The photo appeared on the White House's Flickr stream, and will follow this kid for the rest of his life.
h/t Mashable