Browns Punter Spencer Lanning Had the Best Response to Getting Kung-Fu Kicked in the Face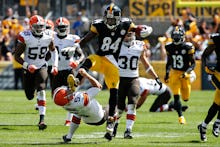 Spencer Lanning has a great sense of humor for a guy who got kung-fu kicked in the face on Sunday afternoon.
The Browns punter didn't know what hit him when Steelers receiver Antonio Brown had a highlight-reel moment while returning a punt in the second quarter. Brown only had Lanning to beat for a touchdown, but instead of clearing him, he wound up taking a high-jump and kicking Lanning in the face, giving the idea of a "season kickoff" a whole new meaning.
Lanning wasn't injured on the play, which gave the green light for memes throughout the web. The second-year punter couldn't resist having some fun of his own. After the game, he tweeted a picture of the failed tackle attempt with a glib commentary.
Even as Brown said he had "No intent to hurt him," the Internet wasn't going to leave him alone. SB Nation declared that the Internet has an Antonio Brown kick photoshop contest. And one of the best reactions came from Olympic hurdler Lolo Jones.  
But the winner? This brilliant Karate Kid send-up.