A Brilliant New App Lets You Take Down Climate Change Deniers With a Single Click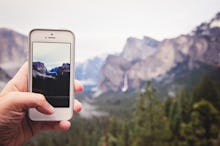 What if you could take down climate change deniers with a single click?
Now you can, thanks to "Science Stands," a simple new app that enables users to tweet scientific papers that substantiate the existence of climate change to its deniers.
How it works: Simply log on to the site, choose the denier you'd like to take down using the arrows on the left and right, and click "flood." The site generates a tweet for you complete with a link to one of thousands of peer-reviewed scientific papers documenting the reality of climate change.
Where does all this science come from? A giant database of climate research. The massive digital warehouse is inspired by a historic study that found 97% of published climate research supports that humans are causing global warming. In an even more recent review of more than 9,000 science articles run between November 2012 and December 2013, the National Physical Science Consortium's James Powell found just one dissenter of human-caused global warming.
The timing couldn't be better. Launched this week, the app has gone live just two weeks before the United Nations Climate Summit, a meeting of nearly 100 world leaders, including President Obama. UN Secretary General Ban Ki-moon called the summit as a last-ditch effort to get global leaders, most of whom have made little to no progress on climate change, to start taking global warming seriously. In just a few months, they'll be meeting again at the historic Paris Conference, where they'll have to finalize a deal on how to curb carbon emissions, many of which come from vehicles and power plants.
The app, created by a coalition of environmental organizations, also comes just in time for a New York City march on climate change set for Sept. 21, a demonstration with representatives from more than 1,000 climate change organizations across the globe.
"The scientific consensus was established decades ago," University of Queensland scientist John Cook, one of the authors of the study on which the database is based, said in a press release. "It's time for us to act now to avoid the worst impacts of climate change."