20 Fantastic Albums You Can't Miss This Fall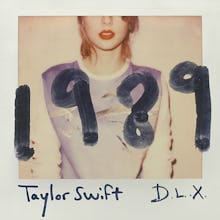 Summer's almost over, which means we can finally lay the song of the summer debate to rest, pretend "Fancy" never happened and start focusing on something more exciting: fall album releases. With stronger sales during the holiday season and the Sept. 30 cutoff for Grammy eligibility, many labels and artists wait to release their biggest albums in the fall, making for a prime listening season for the rest of us. 
Here, in chronological order, are 20 albums you can't miss this fall. 
1. 'Sukierae' by Tweedy
Sept. 16
Wilco's Jeff Tweedy teamed up with his 18-year-old son, Spencer, for Sukierae, an album that doesn't sound out of place in the elder Tweedy's greater body of work but still offers another glimpse into his musical DNA. Jeff's trademark vocals are backed by Spencer's tight, sturdy drumming, making for one hell of a family band and adding a whole new meaning to "dad rock."
2. 'This Is All Yours' by Alt-J
Sept. 22
Alt-J quickly rose to indie rock prominence after their debut An Awesome Wave earned them the title of the "new" Radiohead. With a lead single that sample's Miley Cyrus' "4x4," This Is All Yours is clearly not Alt-J's safe attempt at avoiding the sophomore slump but instead the next step for a band whose talent is matched only by its ambition.
3. 'Wonder Where We Land' by SBTRKT
Sept. 22
Much of the buzz around SBTRKT's sophomore album comes from its impressive list of collaborators, which includes Jessie Ware, Sampha, A$AP Ferg and Vampire Weekend's Ezra Koenig. The British producer is known for his atmospheric tracks and unorthodox collaborations, both of which feature heavily on the singles released from Wonder Where We Land thus far.
4. 'Tyranny' by Julian Casablancas+The Voidz
Sept. 23
It's been five years since Strokes frontman Casablancas released a solo album and, based on its first two tracks, Tyranny should be well worth the wait. Leading on the strength of the 11-minute, surprisingly experimental "Human Sadness," Tyranny promises to show that there's a darker side to the man who once brought us catchy lo-fi rockers like "Last Nite" and the synth-rock sheen of "11th Dimension."
5. 'Queen of the Clouds' by Tove Lo
Sept. 30
Swedish pop songwriter Tove Lo has penned hits for artists like Icona Pop and Cher Lloyd, but with Queen of the Clouds she proves that she's as deserving of the spotlight as she is a studio session all to herself. With dark, hook-laden tracks like "Habits (Stay High)," Queen of the Clouds is pop music for sweater weather. And it's a good thing, as you'll likely be hearing a lot of it in the coming months.
6. 'A New Testament' by Christopher Owens
Sept. 30
Former Girls frontman Owens wanted to strip down on his second solo album. He was inspired, he said, by the famous country music mantra "three chords and the truth." The resulting album runs the gamut of gospel, soul and country — all underscored by Owens' natural knack for jangly hook.
7. 'Plectrumelectrum' and 'Art Official Age' by Prince
Sept. 30
Two new Prince albums on one day?! To what do we mere mortals owe such a reward? The motivations behind the Purple One's generosity aside, both Art Official Age and Plectrumelectrum (the latter of which features Prince's new band 3RDEYEGIRL) promise to bring some necessary funk to your pumpkin-flavored fall. 
8. 'Take Me When You Go' by Betty Who
Oct. 7
Betty Who is one of the year's breakout acts, and after what's felt like an eternity she's finally releasing her full-length debut, Take Me When You Go. Featuring already released hits like "Somebody Loves You" and "Heartbreak Dream," Take Me When You Go is the lovechild of Robyn's and Katy Perry's catalogs, all dressed up in glitter and ready for a night out on the town.
9. 'You're Dead!' by Flying Lotus
Oct. 7
"Never Catch Me," the Kendrick Lamar-assisted debut single off Flying Lotus' upcoming album You're Dead! elicited a collective "holy shit!" from the Internet — and rightfully so. The producer and electronic musician is known for intricate, out-there arrangements, and You're Dead! which also features a guest spot from the legendary Herbie Hancock, shouldn't disappoint.
10. 'Aquarius' by Tinashe
Oct. 7
Tinashe caused quite a stir with her first two mixtapes (In Case We Die and Reverie). Aquarius will be her major label debut. Led by collaborations with Schoolboy Q and A$AP Rocky, Aquarius offers up woozy, rhythmic pop/R&B that rests somewhere between Drake and Aaliyah. 
11. 'Sweet Talker' by Jessie J
Oct. 10
Jessie J has been hanging around the periphery of U.S. pop stardom for a few years now, but "Bang Bang" granted the British singer-songwriter an invitation into the inner circle. With several more Max Martin contributions, as well as collaborations with Diplo, Pharrell Williams and The-Dream, Sweet Talker should be chock full of bangers. 
12. 'American Middle Class' by Angaleena Presley
Oct. 14
Better known as one third of the Pistol Annies ("Holler Annie," to be precise), Presley is striking out on her own with her first solo album. American Middle Class is a twangy meditation on the realities of small-town life and boasts an impressive roster of guest vocalists, including country veteran Patty Loveless and the inimitable Chris Stapleton.
13. 'The Best Day' by Thurston Moore
Oct. 21
With no Sonic Youth reunion in the cards anytime soon, Moore has had a lot of time to focus on his solo career. The Best Day, his fourth true solo album, sees Moore (backed by My Bloody Valentine's Deb Googe, Sonic Youth's Steve Shelley and Nought's James Sedwards) exploring two sides of his musical personality, sides he described as both "thrashing" and "blissful."
14. 'Tough Love' by Jessie Ware
Oct. 24
If you aren't listening to Ware's "Say You Love Me" on repeat until her album comes out, you're doing something wrong. The song, along with the album's also-released title track, shows Ware for what she really is: one of the most talented pop vocalists and songwriters on the planet.
15. '1989' by Taylor Swift
Oct. 27
If her record-breaking debut single "Shake It Off" is any indication, Taylor Swift's 1989 is not only going to be a smash, it's going to be this year's biggest selling album. Swift's first official "pop album," 1989 features co-writes from the likes of Martin and fun.'s Jack Antonoff, making for what should be some good old-fashioned, '80s-inspired joyfulness.
16. 'Montevallo' by Sam Hunt
Oct. 27
Hunt has only recently burst onto the country scene, having scored quick success with his debut EP X2C. The former college football player is a breath of fresh air within the bro'd-out homogeneity of country radio, offering a collection of soulful, R&B-tinged tracks, including what sounds like the surprisingly listenable country equivalent of Shawn Mullins' "Lullaby."
17. 'Tha Carter V' by Lil Wayne
Oct. 28
In what could possibly be his last album before retirement, Lil Wayne's Tha Carter V is one of 2014's most anticipated releases. Details are scant so far, but Wayne has confirmed Drake and Nicki Minaj as guests. For those playing along at home, Drake and Minaj's last collaborated looked like this.
18. 'RTJ2' by Run the Jewels
Oct. 28
El-P and Killer Mike made waves in the hip-hop community in 2013 with the release of their free, self-titled debut Run the Jewels. Now they're back with RTJ2, another free album featuring collaborations with Zack de la Rocha (Rage Against the Machine), Boots, Travis Barker (Blink-182/Boxcar Racer) and Diane Coffee (Foxygen). 
19. 'Lost on the River: The New Basement Tapes' by Various Artists
Nov. 11
A star-studded roster of musicians, including Elvis Costello, Jim James (My Morning Jacket) and Marcus Mumford, joined forces with legendary producer T Bone Burnett to bring an unreleased collection of Bob Dylan lyrics to life. Written in the mid-'60s with The Band, the songs are leftovers from sessions that eventually became the wildly popular (and widely bootlegged) Basement Tapes album. 
20. 'Seeds' by TV on the Radio
Nov. 18
"Happy Idiot," the first single off Seeds, is easily one of the best TV on the Radio songs thus far, so one has to hope that the album itself is one of the band's best, too. The follow-up to 2011's excellent Nine Types of Light, Seeds is the band's first LP since losing bassist Gerard Smith to cancer in 2011.