Here's What Happened When a Biracial Woman Was Photoshopped in 18 Different Countries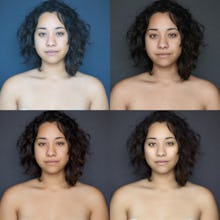 Beauty is in the eye of the beholder. In June, the world got a creative taste of this when journalist Esther Honig asked people from 25 countries to manipulate an unaltered image of her in Photoshop to depict their own personal visions of beauty. The result was an astounding look at how varying cultures would "beautify" a caucasian female. 
Priscilla Yuki Wilson — a journalist, close friend and collaborator of Honig's — has since tested the same technique with one slight difference: Wilson is biracial. 
Half black and half Japanese, Wilson said she learned early on that her looks didn't necessarily fit with various cultural standards of what is considered beautiful: She wasn't born with straight hair or fair skin, nor did she have the conventional features of her black friends and family. For this reason, Wilson says she wanted to explore a reproduction of Honig's "Before & After" project: "I wanted to see how a face like mine would be transformed on the digital surgical table."
Wilson's "Before & After": Like Honig, Wilson used the marketplace Fiverr to contact and send out an unaltered image of herself to 30 people in 18 countries. She asked them to use the software to alter the image and to make her beautiful in their eyes. 
Wilson wrote on her website that "in contrast to Honig's results, where her face became a canvas to express more than a dozen contrasting beauty standards, I found that my face actually challenged the application of Photoshop in this instance. As a biracial women there is no standard of beauty or mold that can easily fit my face."
Wilson's photos were modified in a myriad of ways. In some countries they lightened her skin, one Macedonian freelancer put drastic black eyeliner on her and other freelancers thinned out her cheeks. Here are some of the altered images:
1. Albania
2. Algeria
3. Brazil
4. Chile
5. European Union
6. India 
7. Israel
8. Macedonia
9. Mexico
10. Montenegro
11. Netherlands
12. Pakistan
13. Portugal
14. Singapore
15. Slovenia
16. Sri Lanka
17. USA
18. Vietnam
The takeaway: Wilson's portrait underwent a very different transformation than Honig's. Wilson believes that Honig's face was a "canvas" that was shaped and shifted to highlight beauty standards in other cultures, whereas her own experiment proved that her biracial identity either confused or simply wouldn't "easily fit" into the kind of traditional beauty molds that can be associated with various cultures.
While Honig's portrait drastically changed from country to country, Wilson's was clearly more of a challenge to her international editors. 
"I am living in a culture that's still adjusting to my kind of face," she wrote on her site. "I was taught that my natural self did not comply with conventional standards set forth by society, saying fairer skin is better, straighter hair is more attractive, and that skinny tastes good."
And she's not alone, either. According to the 2010 U.S. Census, "people who reported multiple races grew by a larger percentage than those reporting a single race" between 2000 and 2010, with the "population reporting multiple races (9.0 million) [growing] by 32.0 percent from 2000 to 2010, compared with those who reported a single race, which grew by 9.2 percent."
Of course, the point here shouldn't be that any cultural beauty standard, ethnicity or mix of ethnicities is more beautiful than any other. Ultimately, Wilson's experiment highlights the fact that attempting to define beauty is not only unnecessary but potentially futile. It may seem like a cliche, but true beauty really should lie in the eye of the beholder, with the most important thing being Wilson finds herself beautiful — both inside and out.
h/t Huffington Post