U2 Just Released a New Album and You Already Own It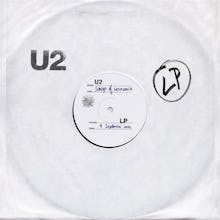 When U2 released No Line on the Horizon in 2009, they said they had another album ready to be released. For the last five years — the longest gap between albums in U2's 34-year career — fans have waited through rumors, false starts and lost faith.
On Tuesday, in five seconds at the Apple Keynote, U2 released their new album, Songs of Innocence to over 500 million people in 119 countries for free.
Image Credit: U2
"We're making music all the time — that's what we do," Bono told the keynote audience in Cupertino, Calif., after a performance earlier in the day. "With this, we wanted to wait until we had one that's as good as our very best work as good as we've ever done."
Then, Tim Cook and Bono, who is one year the Apple CEO's elder, announced the new album. They touched fingers, as in E.T., and the record went out to half a billion subscribers.
Songs of Innocence is rumored to be intensely personal. The band has been experimenting with new sounds, too, enlisting producers like Danger Mouse and Ryan Tedder (the frontman for OneRepublic) to produce the record.
Image Credit: Apple
Immediately after the announcement, the following text appeared on the Songs of Innocence page in iTunes:
Songs of Innocence is exclusively on iTunes. And it's already in your music library. Simply go to the Music app on your iOS device, or to your iTunes music library on your Mac or PC.
This is the largest album release in music history — the sort of grand display that Apple as a company and U2, first as a band and now as a brand, are prone. It isn't the first time the two have worked together either — most will recall the ubiquitous release of "Vertigo" in 2004 via a commercial for the special edition U2 iPod (which now brings in thousands on eBay).
Back then, there was an uproar over the count-off for the track "Uno ... dos ... tres ... catorce." In 2014, that countoff would have made a lot more sense. But that's about all that's changed — Apple and U2 are still working together; still the biggest company and the biggest band in the world.