The NFL Isn't the Only Sports Organization Putting Money Over Women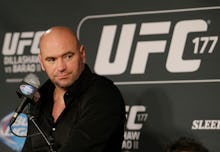 In February, UFC fighter Thiago Silva was arrested by police after a series of domestic violence incidents. The details — which surfaced after the police documents were made available online — were not pretty. Silva allegedly put a gun to his wife's mouth and threatened to kill her. In a separate incident, Silva showed up at a gym where his wife was training and threatened to shoot the entire place up. The initial charge was attempted murder, but it was later downgraded to aggravated assault with a firearm.
At the time, due to the severity of the charges and the public backlash that was raining down on Silva, UFC President Dana White was adamant that Silva would never fight for the UFC again.
Except, this weekend, the stance changed. So why the change of heart? The charges against Silva were dropped because his wife was "uncooperative." Many believe that she has fled the country.
Because of this, White issued issued a statement saying, "When this thing went down, I said he'd never fight in the UFC again. When I watched it unfold on TV and heard of the charges, it didn't look good for Thiago Silva. But he was acquitted of all charges. How do you not let the guy fight again? He went through the legal process and came out of it untainted. He deserves to be able to make a living again. He's back under contract."
It's hard to hear that explanation and not feel like White is simply turning the inability of the legal system to properly prosecute Silva into an opportunity to bring one of his fighters into the fold. It's business, never personal.
Say nothing of the combustible exec's disingenuous use of the term acquit. After all, aside from the case failing to move on because of Silva's wife, nothing about those original allegations has changed, except that it will not go through a legal court to determine whether a crime was committed. Sure, there's a chance Silva was innocent — that's what the courts are for — but given the severity of the allegations, why even take a chance?
Image Credit: Getty
On Monday, TMZ released the elevator video showing Baltimore Ravens running back Ray Rice violently striking his wife Janay Palmer in Las Vegas. Initially, the NFL handed a two-game suspension to Rice, which drew a lot of deserved criticism from all circles. In response, the NFL instituted a new domestic violence policy in which the first offense results in a six-game suspension, and repeat offenders are subjected to a lifetime ban from the league.
This is what the NFL does, what the UFC does, and what sports leagues do — they react. It's scary to think that the approach here from the people running these billion-dollar corporations is this: Until public perception pushes us to a corner where we have no choice, we will always pause and put our business interests first.
Neither White nor NFL commissioner Roger Goodell wanted to set any examples here. Instead, they were fine with tip-toeing the line with the public until they couldn't anymore. In the NFL's case, after the video was made public, the Ravens terminated Rice's contract and the NFL subsequently announced Rice had been suspended indefinitely. He'll need to apply to return to the league should he choose to play in the NFL again.
The fact that it took a TMZ video to come out for the appropriate punishment to come down is troubling. Without it, Rice would have been slated to take the field in Week 3. The implied message is troubling: We were somewhat okay with this act of domestic violence until everyone saw exactly what Rice did, and so we had no choice but to act.
In the UFC's case, it was the opposite. Given the severity of the charges against Silva, White had a need to protect his brand and dissociate. Now that there's an opportunity to reverse course, White is completely fine with finding any reason to let Silva back in.
The most troubling thing about all of this discussion is that it's all business-based; none of it actually addresses or shows any sincere concern about the issue of domestic violence, a problem that extends beyond the folks who are employed in sports. There's a disconnect that exists. Despite great personal harm being inflicted by athletes, those governing the sport still choose to make decisions based on how these incidents impacts their business.
Silva will presumably fight for the UFC again, and no one feels particularly great about that. Meanwhile, Rice is presumably gone from the NFL for good, and no one feels particularly great about that either. One league might have made the right decision, but in the process of getting there, it revealed a lot about the thinking behind those decisions. And there's absolutely nothing pretty or encouraging about that process.