Finally, There's Some Good News for Single People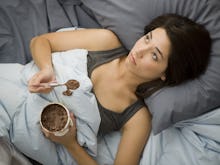 The news: Put your hands up, single Americans, because you now comprise more than half of the country's adult population for the first time since the government began collecting such data.
The findings, reported by Bloomberg News, were part of a report entitled "Selfies" by economist Edward Yardeni, which notes that 124.6 million Americans, or 50.2% of adults 16 and older, were unhitched, according to the Bureau of Labor Statistics. In 1976, the first year the government began compiling the numbers, the proportion of singles was around 37.4%. 
Yardeni called the surge in singles "remarkable," writing that the dominance of American singledom has "implications for our economy, society and politics." He also argued that the growing number of single-person households makes income inequality appear worse than it actually is. "While they have less household earnings than married people, they also have fewer expenses, especially if there are no children in their households," he said.
What's behind the rise in American singles? For starters, Americans are marrying later and later in life: A 2013 report by the Brookings Institution found that the average age of marriage has gone from the early 20s in the 1970s to the late 20s today. 
A Pew study from March 2014 came to a similar conclusion, placing the blame on those fickle millennials. According to Pew, just 26% of Americans millennials are married at ages 18 to 32, compared with 65% of the "Silent Generation," 48% of baby boomers and 36% of Gen Xers.
There are some serious economic advantages for marrying later, including greater economic prosperity for women. Another reason may be the desire to avoid one's parents' mistakes: "The fact that a lot of these kids are children of divorce makes them cautious, it makes them scared, it makes them gun-shy," Linda Waite, a professor of sociology at the University of Chicago, told ABC News.
Tell your family members to put that in their pipe and smoke it. If endless questions about why you're not seeing anyone have you down, don't worry. Keep on engaging in that mindless, casual sex, because it's probably good for you anyway. 
And if you're still worried about being single, don't stress. It's not you — it's everyone.
h/t Bloomberg