In One Quote, a Furious Rand Paul Sums Up What We're All Thinking After Ferguson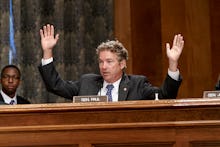 The news cycle may have moved on from Ferguson, but the Senate is just getting started.
The militarization of local police, on full display in protests following Michael Brown's shooting death at the hands of an officer, was the subject of a hearing on Capitol Hill today. Lawmakers on the Senate Committee on Homeland Security and Governmental Affairs came down hard on the program that allows the federal government to provide law enforcement with military weapons and equipment.
Sen. Rand Paul (R-Ky.) may have summed it up best, saying, "This is crazy out of control." His reaction comes as no surprise, given the Time op-ed he penned last month. (Sample selection: "Given these developments, it is almost impossible for many Americans not to feel like their government is targeting them. Given the racial disparities in our criminal justice system, it is impossible for African-Americans not to feel like their government is particularly targeting them.")
Just as incensed was Sen. Claire McCaskill (D-Mo.). "While this hearing may reveal many strong arguments why some of this equipment may be helpful for the safety of police officers in certain situations, I am confident that militarizing police tactics are not consistent with the peaceful exercise of First Amendment rights of free speech and free assembly," she said during the hearing.
Other senators got in on it too — Sen. Tom Coburn (R-Okla.) said the situation gives him "real heartburn" — making the hearing seem like open season on the federal officials being questioned.
McCaskill and other lawmakers singled out MRAPs, or mine-resistant ambush protected vehicles, for particular scrutiny. Six hundred and twenty-four MRAPs, built to resist high-powered IEDs on the streets of Iraq, have been doled out to local police forces since 2011, as noted by theWashington Post. At least 13 agencies with fewer than 10 officers have received one of these military-grade vehicles.
And that's not even the most shocking statistic McCaskill mentioned. She highlighted the Lake Angelus, Mich., police department, which has only one officer. That department has received 13 assault weapons in the past three years.
In total, the Department of Defense's 1033 program has sent more than $5 billion worth equipment to local law enforcement agencies, according to the Washington Post. If these senators get their way, that number's going to drop a lot in the coming years.