One Powerful Photo Destroys the Major Myth About Gay Marriage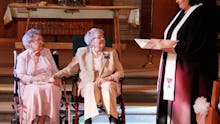 Imgur
The news: If you need a reminder of what true love looks like, look no further than the picture above.
Last Saturday, Vivian Boyack, 91, and Alice Dubes, 90, did something new after 72 years together: tie the knot. The lifelong Iowa couple, who had met in college in the '40s, were wed at the First Christian Church in Davenport, Iowa, where they lived together since 1947.
"It just hit us immediately – if you can understand that," Dubes told the Guardian of the first time they met. "Kind of like a regular marriage, the boy and girl meet ... well, that was just the way we were."
Seated side by side in wheelchairs, the couple exchanged vows before their friends and family. "The best part of it is all the love we've received, in response from all the people," Boyack said. "It's all been good."
It took a long time for them to get here. Although Boyack and Dubes have been in a decades-long relationship, traveling to all 50 U.S. states, Canada and England together, it was difficult for them to make their relationship public.
"I think a lot of people knew, but didn't ever say anything – and we didn't tell them. If they wanted to know about us, that's their problem," Dubes told the Guardian. 
Happily, the couple were showered with congratulations and well-wishes on their wedding day, including from the church community. The Rev. Linda Hunsaker, who presided over the ceremony, told the Quad-City Times that the marriage was "a celebration of something that should have happened a very long time ago."
"I've done a lot of weddings with some young people, and unfortunately I don't think all those have lasted – and these two are the ones that haven't been able to have their relationship?" she told the Guardian.
There are still a lot of ill-founded misconceptions surrounding same-sex marriage. Gay marriage legislation has been quickly sweeping across the country, though it's been legal in Iowa since 2009. Despite persistent assertions that gay people are more promiscuous or less socialized to want marriage, studies indicate that gay couples are no more likely to get divorced than straight couples are — in fact, some research suggests that same-sex unions might actually be more long-lasting and stable. 
If you need real-life evidence of that, perhaps Boyack and Dubes' seven-decade-plus romance can put your doubts to rest.