9 Artists Challenging Our Perceptions of Afghanistan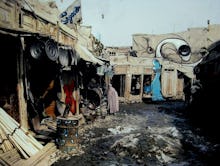 Forget what you think you know about Afghanistan, and take a look at the country through the eyes of these young artists who call it home. 
Modern artists, many of whom reside in Kabul, are taking to their media of choice to make beautifully present once more an artistic culture that has existed for centuries. Considering recent history, these artists are taking a spotlight that wouldn't have been available to them 15 years ago. 
During the later years of Taliban rule, art was prohibited. As the New York Times explained, "the anti-art policies were established and many of the most beautiful things in the country, some 2,000 national treasures, were wantonly destroyed. The Taliban's purpose was to wipe out Afghan identity so that the nationalist resistance to them would be weak." 
The Taliban may no longer run the country, but the art community remains small, and many artists will tell you they receive little support in their home nation. Nonetheless, there is a widening circle of expressive, insightful and inspired individuals finding freedom in creativity. Street artists channel Banksy, others take their cues from German expressionists, and then there are the all-out experimental modernists using everything including bandages, clay, paper, lights and performance to tell their unique story. With the help of Kabul-based organizations like the Center for Contemporary Arts Afghanisan, both men and women are finding their voice as well as an art education. 
These nine artists are only some of the names making waves in Kabul and Europe, while putting Afghanistan back on the map for art connoisseurs. Most importantly, they're using their artwork to tell the world about their country and to criticize and upset the status quo. In their hands, art is a tool for social empowerment. 
1. Azim Fakhri 
Working under the name Kabul Knights, Azim Fakhri is using his art for peace. From painting to stenciling to sculpture, Fakhri's work runs the gamut. But all of it aims to tell the story of his generation. Much of his work has overt political messages and can feel reminiscent of Banksy. "My feeling is accept what you can't change, but change what you can't accept. I've done this thru [sic] many of my arts, changing grenades into pineapples, a sweet taste of victory for someone whose passion is ignited by what I see on the streets and the hope of his people," he wrote on his website. Fakhri has also been a featured speaker for TEDxBerlin where he discussed his project "Street Angels," a photo series devoted to the children of Afghanistan. 
2. Jahan Ara Rafi
The use of bold red against black in Jahan Ara Rafi's paintings lends a feeling of frustration and an image of war — realities that many Afghans have been forced to live with for years. Rafi acknowledged this in an interview with Powder Zine earlier this year, saying that while she was a calm person on the outside she had an "inner uproar ... for freedom, prosperity and human dignity for her people and for resistance against any type of discrimination." But that inner uproar is being put to good use, and Rafi is a known face in the Afghan art scene, collaborating with other artists to develop the Center for Women Artists in Afghanistan. 
3. Zainab Haidary
Zainab Haidary's artistic style is hard to classify: Her works range from bold and abstract paintings to minimalist sketches. Nonetheless, it's undeniable that the increasingly high-profile fine-art student is poised to lead the next generation of Afghan artists, and in 2012 she collaborated with Europeans in workshops focusing on the nation's art. She told the BBC that experiences of war influence her work, saying, "Pain is a power for artists, for doing painting, so war is this kind of ... power inside of the artist's soul."
4. Shamsia Hassani
We've featured Shamsia Hassani on Mic before, but the Afghan street artist deserves another nod. Hassani has been studying Fine Art at Kabul University and using graffiti to draw attention to the lives of women in the often shrouded country. More importantly, in a nation where 36% of people live below poverty line, Hassani is using street art to reach those who cannot afford to go into a gallery. Art in the hands of people like her is truly a tool of empowerment. "I want to color over the bad memories of war on the walls and if I color over these bad memories, then I erase [war] from people's minds. I want to make Afghanistan famous because of its art, not its war," she told Art Radar.
5. Nabila Horakhsh
Nabila Horakhsh's paintings are stunning. Using bright, bold colors with contrasting dark imagery, she depicts decaying trees, looming faceless bodies and the elements. Her style is at once daring and reminiscent of classical expressionistic works. She's also involved with the Berang art organization in Afghanistan, a community focused on supporting and building up contemporary artists in Kabul.
6. Akram Ati
What makes Akram Ati interesting isn't simply his painting, but the process by which he creates his art. While Ati's art itself may be conventional, showing traditional aspects of Afghan, he opts for an a nontraditional painting source. Rather than using store-bought paints, he creates the pigments he uses from clay and stone he grinds and blends into a homemade gluelike substance. The result is a monochromatic and unique glimpse into the markets and farms of a country.        
7. Ali Akhlaqi 
Ali Akhlaqi is another artist crossing genres and styles. From abstract painting to black and white sketch work to photo manipulation, he does it all. The 26-year-old is very critical of Afghanistan, and his political sentiments come through his work loud and clear. He once told Powder Zine, "In my opinion, Kabul is a cursed city of night, which has no comfort, and its day enjoys no light. There is nothing real here." After completing his studies at Kabul University in 2012, his artwork has been featured in galleries in both Afghanistan and Germany. 
8. Malina Suliman
Born and raised in the southern city of Kandahar, street artist Malina Suliman is making a name for herself as a graffiti artist. Despite being trained in realism and holding a degree in fine arts, Suliman braves the streets to speak out for her generation, which is trying to find its voice amid violence. She has worked with Berang Art and has established a fine arts group in her home province, which is considered one of the most dangerous in Afghanistan. Last year, Suliman had to flee her home nation after threats from the Taliban and an attack left her father's legs broken. She told the BBC about the hostility she faces as a street artist in Kandahar: "I would paint graffiti on the rocks and walls and they would throw stones at me and condemn me. I would move to another area but they would follow me there and pelt me with stones." 
9. Arif Bahaduri
One of the most striking things you may notice about Arif Bahaduri's work is its three-dimensional quality. He's used bandages and warped paper to give his pieces texture, creating abstract images of homes and tombstones. "I work with plasters to represent pain and unhealed wounds," Bahaduri told the Mail & Guardian. Bahaduri is also a skilled sketch artist, and his images of grim reaperlike bodies filing through the streets of Afghanistan are as much a commentary of the current political, cultural and economic moment in the country's history as they are a testament to his talents.