The UN Is Sounding 'Alarm Bells' on Climate Change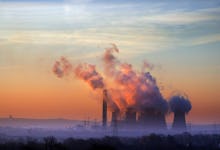 The news: The U.N. is sounding the "alarm bell" as scientists warn greenhouse cases reached their highest concentration ever recorded in 2013, while the ability of the planet to absorb them may be waning.
To emphasize the desperate nature of global greenhouse gas emissions, the WMO released this mock weather report from the year 2050:
World Meteorological Organization (WMO) Secretary-General Michel Jarraud told reporters Wednesday in Geneva that "an alarm bell is ringing," as WMO scientists called for "even greater urgency" in the world's fight against climate change in a press statement on the group's latest Greenhouse Gas Bulletin:
The Greenhouse Gas Bulletin showed that between 1990 and 2013 there was a 34% increase in radiative forcing – the warming effect on our climate – because of long-lived greenhouse gases such as carbon dioxide (CO2), methane and nitrous oxide.
Why you should care: Jarraud sums up the consequences pretty well in a statement: "The Greenhouse Gas Bulletin shows that, far from falling, the concentration of carbon dioxide in the atmosphere actually increased last year at the fastest rate for nearly 30 years. We must reverse this trend by cutting emissions of CO2 and other greenhouse gases across the board.
"We are running out of time."
The bottom line: Greenhouse gases are building up in the atmosphere, and it's only getting worse.
Other recent studies have demonstrated that large portions of the ecosystem are at serious risk in a rapidly warming planet. The National Audubon Society recently concluded that half of all bird species in North America are at major risk of severe population decline by the year 2080, with chief Audubon scientist Gary Langham telling the Los Angeles Times the projections were a "real punch in the gut."
Another report released by accounting firm PricewaterhouseCoopers concluded that governments need to slash world carbon emissions by more than five times the rate in 2013 rate to keep global warming under 3.6 degrees Fahrenheit by the end of the century. Without immediate action, the study says the world will destroy that target by 2034. Unfortunately, the political will to address global warming remains as anemic as ever. 
It's going to be a hot century, and the one after may be totally unrecognizable.