Jeremy Lin Pranked His Fans in the Best Way Possible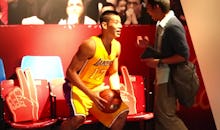 Newly minted Los Angeles Lakers point guard Jeremy Lin has been a merry prankster on social media all summer.
So naturally when the Madame Tussauds museum in San Francisco unveiled a wax statue of the Torrance, Calif., native last month, the fifth-year point guard wasn't going to let go another opportunity for an all-time great practical joke. 
The museum recorded Lin posing as a wax figure and then coming to life when visitors came near to take pictures. In one episode, Lin's statue offers the ball to a woman who was trying to pose next to him, and in another he raises his head just when a large group is about to click him. Posted Tuesday, the prank video had more than 526,000 views  on YouTube — and climbing. 
After being traded by the Houston Rockets this summer, Lin has been up to a lot of fun, especially with his Fan Appreciation Week idea of soliciting cam dunk videos. He showed his fans how it's done by posting his #JLinDunkCam, liked by more than 60,000 Instagram users. On one occasion, his mom was an unwitting co-star.
Another time, he smudged his mom's face into a big raspberry chocolate cake on her birthday.
But this time Shirley Lin was the least-surprised visitor when Lin tried to pull off the wax statue trick. She quickly patted him on the shoulder to bring him to life.
"Thanks to the SF Madame Tussauds Wax Museum for helping me patch things up with my mom hahah," Lin wrote in his Instagram post.
Image credit: Instagram
Lin, who played high school basketball in nearby Palo Alto, joined legendary San Francisco 49ers quarterback Joe Montana, 18-time Grand Slam champion Serena Williams, legendary heavyweight champion Muhammad Ali and 14-time major winner Tiger Woods among the sports figures on display at the Fisherman's Wharf museum.