NBA Player's Powerful Response to Racist Remarks Deserves A Standing Ovation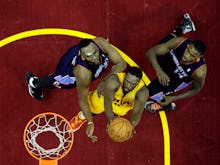 Serious question: How do you respond when your racist boss tries insulting you by saying you have "a little African" in you?
That's the conundrum Miami Heat forward Luol Deng faced when news broke that Danny Ferry, the general manager of the Atlanta Hawks, allegedly made the following comments while reviewing a scouting report during a managerial conference call in June:
"[Deng] has a little African in him. Not in a bad way, but he's like a guy who would have a nice store out front but sell you counterfeit stuff out the back."
Seriously: Ferry went on to describe Deng as "a two-faced liar and cheat," according to a letter written to Hawks team owner Bruce Levenson from minority partner SSG Group, LLC.
(You can read the full letter here, via a CBS Sports report.)
So how did Deng react? The same way any proud son of South Sudan might: by wholeheartedly embracing Ferry's designation about his heritage.
"I'm proud to say I actually have a lot of African in me, not just 'a little,'" he said said in a statement to the South Florida Sun-Sentinel.
Here's Deng's statement in its entirety, courtesy of CBS Sports:
"'HE HAS A LITTLE AFRICAN IN HIM'
"These words were recently used to describe me. It would ordinarily make any African parent proud to hear their child recognized for their heritage. I'm proud to say I actually have a lot of African in me, not just 'a little.' For my entire life, my identity has been a source of pride and strength. Among my family and friends, in my country of South Sudan and across the broader continent of Africa, I can think of no greater privilege than to do what I love for a living while also representing my heritage on the highest stage. Unfortunately, the comment about my heritage was not made with the same respect and appreciation.
"Concerning my free agency, the focus should purely have been on my professionalism and my ability as an athlete. Every person should have the right to be treated with respect and evaluated as an individual, rather than be reduced to a stereotype. I am saddened and disappointed that this way of thinking still exists today. I am even more disturbed that it was shared so freely in a business setting.
"However, there is comfort in knowing that there are people who aren't comfortable with it and have the courage to speak up. In the same way a generalization should not define a group of people, the attitude of a few should not define a whole organization or league.
"Ultimately, I'm thankful to be with an organization that appreciates me for who I am and has gone out of its way to make me feel welcome."
Background: Deng's powerfully measured response comes during a grim week in professional sports.
Not only did TMZ release video on Monday of Baltimore Ravens running back Ray Rice knocking his then-fiancée Janay Palmer unconscious in an elevator, prompting the termination of Rice's contract and indefinite suspension from the league, but the Atlanta Hawks have been embroiled in their own controversy as well.
In addition to Ferry's appalling June conference call, Levenson, the Hawks' owner, is voluntarily selling his share of the team following the revelation that he made racist comments in an email to two ownership partners in 2012, according to CBS Sports.
In doing so, he follows a precedent set by Donald Sterling, who sold the Los Angeles Clippers (though not without a fight) after making racist comments of his own earlier this year.
Takeaway: These latter incidents highlight a troubling reality coloring the pro sports hierarchy.
The NBA in particular has an overwhelmingly black player base — 76.3%, according to a 2013 Institute for Diversity and Ethics in Sports report — but 76.7% of its general managers are white, plus 98% of its majority owners, according to the FiveThirtyEight. (The sole owner of color? Michael Jordan.)
Considering the racism some white owners and GMs feel so comfortable expressing in documented conversation, it's troubling to imagine how they might feel behind closed doors.
It's lucky for them that Luol Deng dismissed Ferry's comments so calmly. He'd be completely justified in outright taking the league to task for its blatant race problem.
Correction: Sept. 12, 2014