NFL Owner's Sexual Assault Charges Show How Widespread Rape Culture Really Is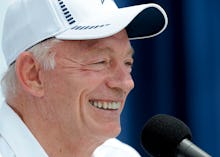 On Monday, a sexual assault lawsuit was filed against Dallas Cowboys owner Jerry Jones. Earlier this year, provocative photos of Jones and several women leaked onto the Internet. Jones' accuser, 27-year-old Jana Weckerly, was the one who allegedly took these photos.
According to the lawsuit, Jones "knowingly sexually assaulted" Weckerly in either May or June 2009. Jones is alleged to have "intentionally, knowingly and forcibly rubbed and/or grabbed [Weckerly's] buttocks [and breasts] multiple times." Additionally, Jones forced Weckerly to touch his penis, and went on to kiss her on the neck and lips before he "forcibly penetrated [Weckerly's] vagina with his fingers." All of this without consent. Later, he received oral sex from another woman while Weckerly was in the room.
In addition to her complaints against Jones, Weckerly has named the Cowboys organization as a codefendant, claiming that they tampered with evidence, threatened witnesses and "foster[ed] an environment and culture where abuse of females could flourish and in which it was clearly understood that there was no accountability for such criminal acts." The complaint alleges that Jones and the Cowboys conspired to cover up the assault, and the bullying tactics used "placed [Weckerly] in imminent fear of her life, safety and well-being."
Weckerly is suiting for damages in excess of $1 million.
There's hardly such a thing as a good time for a sexual assault lawsuit to be leveled against you, but this has to be just about the worst timing for Jones and the Cowboys possible. With the recent uproar over Ray Rice, the league's problem with violence against women, including sexual violence against women, is in the spotlight now more than ever.
What this situation highlights more than anything is the pervasiveness of rape culture within society. As others have written, rape — and by extension, rape culture — is not about sexual fulfillment, but rather about control and entitlement. Jones' net worth has been reported to be above $2.7 billion, and with that comes a whole lot of entitlement.
Levi McCathern, Jones' lawyer, issued a statement to Pro Football Talk's Mike Florio, claiming that Weckerly's assertions are false, and that this is nothing more than a "money grab."
Jones has personally denied the allegations, claiming that Weckerly "misrepresented photos taken at a restaurant five years ago for [her] own purposes," before declining to comment further.
As Florio notes at Pro Football Talk, this case may actually be over before it truly begins, as the statute of limitation for filing personal injury lawsuits in the state of Texas is two years from the date of injury.
Still, it's notable that cases like these keep surfacing. Whether discussing Ben Roethlisberger, Jerry Jones, Ray Rice or other sports figures who have been associated with violence against women, time and again, they are seen as untouchable by prosecutors who are unwilling to push for these multi-millionaires (or, in Jones' case, billionaire) to serve jail time. The sports world is filled with individuals who have been set aside as too big to fail.
On Jan. 31, 2000, then-Ravens linebacker Ray Lewis and two friends were involved in an altercation with Jacinth Baker and Richard Lollar. By the fight's conclusion, both Baker and Lollar had been stabbed to death, and 11 days later, Lewis and his companions were indicted on murder charges.
Lewis struck a plea deal with prosecutors that would keep him out of jail in exchange for testimony against his friends. Lewis entered a guilty plea on the misdemeanor charge of obstruction of justice, which carried with it a punishment of 12 months probation. A year later, Lewis won the Super Bowl with Baltimore and was named the game's MVP.
Just days ago, the Ravens unveiled a statue of Lewis outside their stadium. This permanent shrine to the team's greatest linebacker and murder suspect says a lot about what crime and violence means to NFL teams: nothing. If you win, and if you sell tickets, you can literally get away with murder. Just keep winning, and keep selling tickets.
Before Lewis' next trip to the Super Bowl in 2013, CBS analyst Shannon Sharpe asked Lewis about what to tell the families of Baker and Lollar, who understandably find themselves distressed that Lewis is seen as a hero to millions. Lewis' response was, bizarrely, "God has never made a mistake. That's just who He is, you see… To the family, if you knew, if you really knew the way God works, He don't use people who commit anything like that for His glory."
More than a year later, Lewis still doesn't make much sense. Is he saying that the stabbings of Baker and Lollar were part of some spiritual plan? Is he absolving himself of blame? This odd, word-salad response is par for the course with Lewis, now a commentator with ESPN, who opined on the Ray Rice situation.
"If you treat your mother a certain way, you'll treat your woman a certain way," Lewis said. "When you watch this video, you see that somewhere this young man, some leadership was lost. He got out there and started doing his own thing and what happens is what's in the dark is going to come to light."
While that statement is as nonsensical as most everything else he's said, Lewis' words illustrate something both intriguing and terrifying about the psyche of NFL players. In his mind, Rice was "doing his own thing." Beating a woman unconscious is not simply "doing his own thing."
When Ben Roethlisberger found himself in trouble after being accused of sexual assault on a number of occasions, he hired Lewis' lawyer.
This attitude runs throughout the sports world, from Kobe Bryant to Jameis Winston, Heisman Trophy winner and alleged rapist. This attitude encourages teammates, coaches and fans to engage in intimidation tactics against victims, much like Weckerly is accusing Jones and the Cowboys.
In 2010, Lizzy Seeberg committed suicide just 11 days after reporting that a Notre Dame football player had sexually assaulted her. In those 11 days, Seeberg was forced to wait as the police all but ignored her case, neglecting to even interview the accuser until five days after she committed suicide. The school did not name nor did they remove the accused player from the team. Instead, they engaged in an elaborate campaign to destroy Seeberg's character, trying to discredit her words even after her death.
Even though the statute of limitations may have passed, leaving Weckerly without recourse for her actions, but the NFL and sports generally now face a backlash like no other. If they neglect to address the root causes of their issue with women — misogyny, entitlement, a belief that rules do not apply to them — it will only be a matter of time before they witness their female fanbase leaving in droves.