Photos of Keke Palmer's First Performance as 'Cinderella' Will Bring Tears to Your Eyes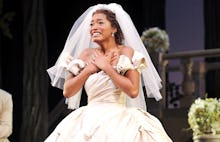 Keke Palmer took the stage Tuesday night as the title character in Broadway's Cinderella, marking the first time an African-American actress has played the role on theater's biggest stage. 
The audience may have loved her, but Palmer's own response to the show was the most amazing event of the night. TheaterMania reports that she burst into tears upon her stage entrance, and again when the crowd gave her a standing ovation. After her performance Tuesday, the 21-year-old tweeted, "Dreams do come true."
Not only was it Palmer's debut, it was but also the first performance for Sherri Shepherd in the role of Madame, the wicked stepmother. 
Below, you can see Palmer and the rest of the cast's beautiful and emotional reaction to her first show: 
h/t TheaterMania