The People You'd Least Expect Are Desperately Trying to Join the Islamic State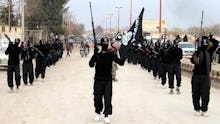 The news: Teenage girls are trying to find their way into Syria or Iraq to wage jihad alongside the Islamic State (IS), the Sunni militant group that's taken control of large swaths of Iraq and Syria, imposing draconian laws in order to achieve a caliphate. 
On Tuesday, two Austrian girls, ages 14 and 15, were returned to their homes after police intervened with their plans to travel to Iraq or Syria. The young women had tried to convince a third friend to join them, and after the two girls were reported missing from their homes in Vienna, the third girl's mother contacted the authorities with the information. 
This is part of a growing trend. In late August, two French teens acted together in efforts to join ISIS. The girls, 15 and 17, were "captured by a security net that [French] are using to ferret out citizens who are considering traveling to other countries to join jihads," the Associated Press reported. 
Additionally, a 19-year-old Colorado woman, Shannon Maureen Conley, was taken into custody in April after allegedly planning to join IS militants. Conley had been so forthright in her mission that not only could her parents not dissuade her from trying to board a plane, but she met with one FBI agent and openly discussed her feelings.
How the Islamic State recruits: IS deploys highly sophisticated recruitment strategies and propaganda tactics that make murder, torture and abuse look thrilling. The militants have a well-crafted social media presence that allows their videos and messages to spread in a fashion similar to the ALS ice bucket challenge. It's viral marketing, but for violent jihad.
The insurgents triggered a firestorm of international outcry after they released expertly edited footage of the Sept. 2 execution of American journalist Steven Sotloff. That video, coupled with the beheading of James Foley, is a symbol of IS's deep-rooted understanding of social media as a vehicle. 
In August, the Irish Independent's Carol Hunt wrote about how the Islamic State uses social media to recruit and groom young, vulnerable women for jihad:
The social media messages the women post sound so appealing. They tell us about their trips to the Mediterranean for beach days, the wonderful spiritual and emotional fulfilment they experience, how everything they and their children need for a comfortable life is generously provided for them by the 'Dawla' (state), and they describe the affectionate domestic bliss they enjoy with their brave, loving, heroic husbands. These are the prizes being offered to young (mainly, but not solely) Muslim women who choose to leave the capitalist West and join the new Islamic State (formerly ISIS or ISIL).
The New York Times' David Carr writes the video beheadings of Foley and Sotloff "are a triple death — murder and defilement in a public way — and YouTube becomes the pike on which the severed heads are displayed. The actual butchery of the act is minimized by strategic editing, which suggests that the video is not an attempt at leverage but a carefully produced infomercial about how gangster and merciless ISIS is. It is a kind of global invitation: Come for the jihad and stay for the killing."
The next step: President Obama will address the nation on Wednesday to unveil the U.S. plan against ISIS, which will likely include more information about the planned airstrikes on Syria. NPR reports that "65% of Americans now support airstrikes against Syria," but Obama has been notably cautious about American intervention in the situation. And as ISIS recruitment gains more traction in the West, the U.S. military may find itself with a more complex challenge than it originally realized, teenage girls and all.
h/t Gawker