Watch the Spread of Ebola in West Africa, in One Mesmerizing GIF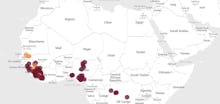 If you needed another reminder that West Africa's Ebola epidemic "spiraling is out of control," here it is:
The animation, courtesy of healthmap.org, shows the spread of Ebola in West Africa from March 19 to September 9. The dots represent levels of activity — newly reported cases, frequent deaths, news events — and the darker the color, the more significant the activity. The data comes from HealthMap users and is sourced from various news outlets, links to which can be found by clicking on each dot.
No end in sight: The crisis already has the dubious distinction of being the world's worst outbreak of Ebola. As the map shows and as Mic recently reported, the situation in West Africa grows more dire by the day. 
"It's spiraling out of control," Centers for Disease Control and Prevention director Tom Frieden told NBC News. "The situation is bad, and it looks like it's going to get worse quickly ... It's spreading widely, throughout entire countries, through multiple countries, in cities and very fast."
Guinea, Liberia and Sierra Leone have experienced a 49% case increase in the past three weeks alone, and the death toll has reached 2,300 out of some 4,300 cases. The situation has been compounded by restricted air travel, which limits the transport of emergency personnel and supplies, as well as a frail, understaffed and underfunded healthcare system.
Liberia has been hit particularly hard. The country's defense minister Brownie Samukai warned that the entire country's survival was at risk. "Liberia is facing a serious threat to its national existence," Samukai told to the UN Security Council. Ebola is "spreading like wildfire, devouring everything in its path," he added. This comes on the heels of a World Health Organization report that said the disease would infect thousands more within weeks. 
As Mic's Tom McKay writes, "The situation is already very bad and getting worse." The map of the epidemic may be terrifying, but it's likely going to get much, much scarier. 
h/t reddit