Someone at the NFL Reportedly Knew About the Ray Rice Assault Video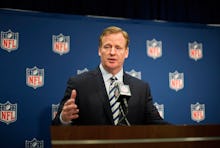 Following Monday's explosive release of a security camera video showing Baltimore Ravens running back Ray Rice knocking out his then-fiancée Janay Palmer, there was one big question on everyone's mind: did the NFL know?
Now the Associated Press says otherwise:
A law enforcement official says he sent a video of Ray Rice punching his then-fiancee to an NFL executive three months ago, while league officers have insisted they didn't see the violent images until this week.
ABC News reports, citing sources, that the Baltimore Ravens knew that "a surveillance video of the assault existed and that Rice's lawyer had a copy of the video, but never asked to see it."