President Obama: U.S. Will Lead Broad Coalition Against the Islamic State 'Wherever They Exist'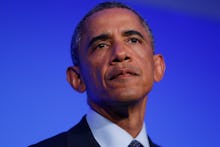 President Obama will say on Wednesday night that the U.S. will lead a broad coalition of nations agains the Islamic State militants "wherever they exist."
"So tonight, with a new Iraqi government in place, and following consultations with allies abroad and Congress at home, I can announce that America will lead a broad coalition to roll back this terrorist threat," Obama will say tonight in prepared remarks. "Our objective is clear: we will degrade, and ultimately destroy, ISIL through a comprehensive and sustained counter-terrorism strategy.
With the shadow of the 2003 invasion of Iraq looming over the White House, Obama will approach the fight against the Islamic State with caution.