To Understand Obama's Firm Stance on the Islamic State, Check This Chart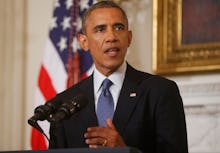 On Wednesday, President Obama announced the U.S. would lead a "broad coalition to degrade and destroy" the Islamic State, but that the U.S. military's role would be limited to targeted airstrikes and supporting Iraqi forces.
If you ask Fox News, Obama is simply attempting to juice his low approval ratings by appearing tough on the anniversary of 9/11.
What's actually happening: To put it bluntly, Americans are freaking out over IS.
Americans are more concerned about terrorism now than at any point since Obama became president.
You can see the U.S. public's concern for IS spiking in the interactive below. The chart shows Google searches for "terrorist" and the two major terrorist organizations: al-Qaeda and the Islamic State of Iraq and the Levant (another name for IS).
Search popularity is ranked on a scale of 0 to 100.
There have been three spikes in Google searches related to terrorism since Obama was elected president:
1. Green spike: Osama bin Laden's death in May 2011.
2. Orange spike: The Boston Marathon bombings in April 2013.
3. Blue spike: The growing threat of IS, including two beheadings of American journalists.
Americans see ISIS as a major threat to the U.S. According to a CNN poll this week, the level of fear toward IS today is similar to that toward al-Qaida back in 2003.
Source: CNN.
Back in 2003, we marched troops into Iraq and launched a disastrous war that ultimately may have led to the creation of ISIS.
Let's hope history doesn't repeat itself.