Striking Images Shine Light on the Side of America We Rarely See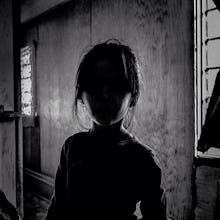 Photographer Matt Black has been focusing his lens unflinchingly on poverty in the Americas since the 1990s. With two recently launched photographic initiatives, Black is using Instagram to bring more eyes to his work and more eyes to the disparate, often bleak, realities of everyday life unfolding all across the country. 
The first project is the Geography of Poverty on Instagram, where Black combines geographic coordinates, census data and photographs to capture a portrait of poverty in everyday America, or more specifically a portrait of poverty in California's Central Valley farmlands. The second is his collaborative project EverdayUSA (@everydayusa) where he works with photographers across the country to share slices of American life. Black's dense, graphic, black-and-white photos show a side of America rarely seen by many of us.
Harnessing the power of social media, Black shares the faces and stories of these individuals with close to 60,000 Instagram followers (plus a few hundred more via Twitter). 
Throughout his career, Black has focused on telling the stories of individuals in impoverished communities, personal stories that are underrepresented in the mainstream media. Conceptually, his work doesn't directly dwell on drugs or violence, unlike most coverage of poverty. Instead, he focuses on the economic forces that might perpetuate it.
This year, Black has been especially busy. In addition to the Geography of Poverty series, twin documentaries are in the works: "Kingdom of Dust" and "People of Clouds," which focuses on communities in California's Central Valley and Mexico's Mixteca mountains, respectively.
Black believes that the connection between the economic health and the location of a community are deeply related; it's a connection that is not often acknowledged. 
"Poverty and place are so closely related that it's taken for granted, and it's a mindset that enables the kind of shoddy treatment that poor communities receive: bad roads, dirty water, crummy schools, polluted air," he said in an interview with TIME Lightbox at the start of the Geography of Poverty project. 
"All these things are a reflection of power and acquiescence. Both photography and maps can play a role in highlighting that, and I think social media can, too. There does seem to be room on sites like Instagram to deal with serious issues, and so far the reaction to this project has been good." 
It's for that reason that all of the images in the Geography of Poverty project feature latitude and longitude coordinates, as well as information about the economic health of the spotlit community. 
For example, the image below was taken in Allensworth, Calif. In this post, Black notes that Allensworth is a small, isolated, unincorporated community in Tulare County, Calif. The average per capita income is $7,274 — 54% live below the poverty line. There are approximately 417 people and 98 families in Allensworth, and the average age is 23, according to 2010 census data. Poverty is perpetuated here by restrictions directly and deeply related to place. Black gives the image, the context and the story — stories of towns we rarely hear about.
Ultimately, Black's photographs gracefully illustrate an important narrative about an American economy in transition through the experiences of the people who are impacted. As agrarian and manufacturing opportunities evaporate, and American economic growth seems stagnant, these are critical perspectives to consider.
Black's work is an eye-opening reminder of the poverty in our own backyards and the experiences of those we might consider neighbors.