An All-Girl Hasidic Rock Band Is Reshaping Live Music, But Men Will Never See Them Play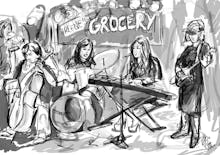 Bulletproof Stockings, an all-girl band from Crown Heights in Brooklyn, N.Y., has a band costume, but not like you'd expect. They have sleeves that cover the elbows, shirts that cover the knees and, yes, stockings that cover the legs.
It's the kind of conservatism you'd expect from Hasidic Judaism, not from the members of a rock band. But Dalia Shusterman and Perl Wolfe prove that it doesn't matter how you're dressed onstage if the focus is really on rocking out. 
"We're choosing to make a stage for women. Having fun where it's just women hanging out with women is so empowering." - Dalia Shusterman
Last month, the Hasidic duo made waves with their performance at Arlene's Grocery, a music venue in New York City's Lower East Side, when they only allowed women to attend their show. And the no-boys-allowed policy worked: Arlene's Grocery sold out the show to a crowd of women ranging in age, sexual orientation, race and spiritual beliefs. For Bulletproof Stockings, that eclectic mix is exactly what made the night so magical.
"They had such a light in them, such a warm energy," Wolfe told Mic. "We couldn't have done it without them. They proved to everyone else that this [concert] is something that women really want."
But, as Shusterman and Wolfe noted, playing in front of only women hasn't come without negative feedback. Outsiders have claimed the band is "backward" and employs "sexist" motives. 
"People believe that the reason why we're limiting ourselves is because we're oppressed," Shusterman said. "But the [Hasidic] law is really on the men. The reason why we do this is not about the law. The reason why we do this is because we're choosing to make a stage for women. We come from a culture where the value of having women's spaces and men's spaces is very recognized and valued. It's a no-brainer. Having fun where it's just women hanging out with women is so empowering."
"[Many] immediately look at the fact that we're a Hasidic community and they're like, 'Oh! That's a patriarchal society that tells women what to do,'" Wolfe added. "So obviously, we're doing this because the men are keeping us down. We are definitely not discriminating against men because we think there's something wrong with them. When women get together, something just happens." 
Ever since the bandmates met and connected at the end of 2011 — when Wolfe got divorced and Shusterman mourned the sudden death of her husband — they have fostered a comfortable space for women to enjoy music. Their material is approachable because of their key rock influences: Wolfe is a die-hard Led Zeppelin fan, while Shusterman grew up on alt-rock like the Cure and Jane's Addiction. But it's emotionally accessible because of strong Hasidic musical structure and traditions.
"The niggunims (melodies) are very powerful," Wolfe said. "It's really raw, right-to-the-essence-of-your-soul music. I think that's why it translates to the secular audiences well, because you don't need to understand what we're saying to get the message."
That soulfulness has left women only wanting more. Just this week, Bulletproof Stockings played another crowded set at Bar Matchless in Williamsburg, Brooklyn before a diverse crowd that included many women from the Hasidic community. It's clearly become a strong support system for Shusterman and Wolfe, who now live together and care for Shusterman's four young sons. They both somehow finagle full-time family life alongside handling everything that comes with being in a band, including numerous interviews, shows and recording a full-length album. But it's not a burden: For Bulletproof Stockings, rock is what keeps them grounded.
"There's something about rock music, something about dancing and jumping up and down, shaking out your hair. You're able to release something in a different way," Perl said. "At the end of the day, Dalia and I are not doing this because we want to be rich and famous. We're doing it because we really believe this is what we're meant to do."