Oscar Pistorius Found 'Negligent' But Not Guilty of Murder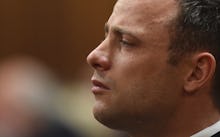 The news: The verdict is in. The Olympic and Paralympic athlete who killed his girlfriend on Valentine's Day in 2013, Oscar Pistorius, was found not guilty Thursday morning of premeditated murder, which carries a potential sentence of 25 years of jail time. 
According to the New York Times, the South African judge presiding over the case, Thokozile Matilda Masipa, said "that although Mr. Pistorius made a poor and evasive witness, she found large parts of his story credible. Most significantly, she said it seemed — or at least that the prosecution had been unable to prove otherwise — that when he shot and killed his girlfriend, Reeva Steenkamp, 29, through a bathroom door in February 2013, Mr. Pistorius genuinely believed that intruders had broken into his home and were hiding in the bathroom at the time."
Since there are no jury trials in South Africa, Masipa delivered the not guilty verdict on her own after a 41-day trial. The judge disregarded many aspects of the prosecution's claim that Steenkamp's death stemmed from the couple's relationship being "on the rocks." "In my view, none of this evidence, from the state or defense, proves anything," Masipa said. "Normal relationships are dynamic and unpredictable sometimes."
The verdict on the charge of culpable homicide is still pending, so the track star still faces a possible prison sentence of up to 15 years. In South Africa, culpable homicide is loosely akin to involuntary manslaughter in the U.S. 
According to Pistorius' account of the incident, the athlete woke up when he thought he heard a window opening, leading him to assume that an intruder had entered his home. He then walked down a dark hallway, without his prosthetic legs, towards the bathroom carrying a loaded handgun at the ready and opened fire into the bathroom door. After breaking down the locked door with a bat, he found Steenkamp's lifeless body. 
The case has been in the spotlight from the beginning: Pistorius had his legs amputated below the knee when he was 11 months old and went on to become a track all-star.
h/t Reuters