What 9/11 Looked Like to the Only American Who Wasn't on Earth to See It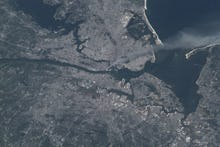 NASA astronaut Frank Culbertson was 220 miles above the Earth on Sept. 11, 2001. A former U.S. Navy captain, he was the commander of the Expedition 3 mission aboard the International Space Station. His Russian crewmates, Vladimir Dezhurov and Mikhail Tyurin, were his only companions, which meant he was the only American in space. 
"It's difficult to describe how it feels to be the only American completely off the planet at a time such as this," Culbertson wrote in a letter published the day after 9/11. "The feeling that I should be there with all of you, dealing with this, helping in some way, is overwhelming. I know that we are on the threshold (or beyond) of a terrible shift in the history of the world." 
Below are a few photos that Culbertson and the crew — and other satellites in orbit — captured on the day of the attacks: 
Image Credits: NASA, GeoEye, CNES/SPOT via space.com