Janelle Monáe Just Gave the Best Sesame Street Performance Ever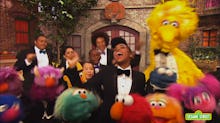 Wondaland pop artist Janelle Monáe may have played the Grammys, but she just absolutely owned her biggest gig yet — a spot on Sesame Street, performing the song "The Power of Yet" with Bert, Big Bird and the rest of the gang.
"I am so excited to be living one of my dreams — to be here on Sesame Street," Monáe told Billboard when they released a "behind the scenes" video back in January. "I'm here because I am teaching everybody on Sesame Street the importance and the power of 'yet.' Never, ever, ever give up, because there's so much power in 'yet.'"
Monáe is the perfect artist for that message. Ever since she was little, she dreamed of being a singer, and after years of practice and determination, she achieved that dream. "There was a lot of confusion and nonsense where I grew up, so I reacted by creating my own little world," Monáe writes in her Atlantic Records bio, "I began to see how music could change lives, and I began to dream about a world where every day was like anime and Broadway, where music fell from the sky and anything could happen."
That place would come to be known as Wondaland Records, which, though technically a commune in Atlanta, is not unlike Sesame Street.
Landing a gig on Sesame Street is a serious honor, one for which Monáe is more than worthy. Now she's back out on the road, still grinding on her Electric Lady tour, but with this epic performance she has taken a significant step towards solidifying her legacy. She joins the ranks of some of the most acclaimed artists of our time, including Johnny Cash, Stevie Wonder, Usher, Feist, Wynton Marsalis and Yo-Yo Ma. Because Monáe is a legend in the making — she just hasn't gotten there yet.