Chipotle Employees in Pennsylvania Just Sent a Bold Message to Their Corporate Overlords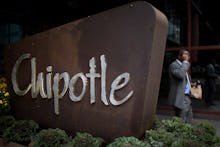 The news: Residents of State College, the home of Penn State University, craving a Chipotle burrito were met with an unexpected message when they visited their local eatery: Employees abruptly abandoned the store in protest of terrible working conditions.  
Four employees reportedly quit in a two-day period due to "borderline sweatshop" conditions. The busy food joint was understaffed, forcing many employees to work 10-12 hour shifts with no breaks, former manager Brian Healy told Onward State. And Chipotle's corporate offices reportedly offered no relief for overworked employees.
"We just felt neglected," Healy said. "Working conditions are heinous. I'm not trying to take down the Chipotle corporation, I just want to see people treated better. We're not trying to start a strike or anything like that."
Members of the State College community took to Twitter to share their support for the overworked former employees:
Not addressing the issue: Chipotle has yet to directly address the claim that conditions were teetering on being like a "sweatshop." A spokeswoman for the company, Danielle Winslow, told Penn Live that "our Penn State restaurant was closed when a few employees quit, locking out a majority of others who are enthusiastic to return to work. We expect the restaurant to re-open shortly." 
The restaurant is back in business, Gawker reports, but the abrupt shutdown points to a gap between the company's philosophy on employee treatment and what happened at the State College location. 
Since a 2005 overhaul of Chipotle's company culture, the restaurant chain has been relying on strategies to encourage upward mobility for employees with monetary incentives. Co-CEO Monty Moran told Quartz that they based their internal employee infrastructure on three factors: "hiring, rewarding, and empowering top performers."
Moran's idea for a rewarding and positive company culture definitely don't align with the State College Chipotle's allegations of "heinous conditions." While Chipotle fans can once again go and enjoy their favorite burritos, let's hope the closure sent a strong message to Chipotle's corporate overlords.
h/t Penn Live