9/11, as Seen Through the Eyes of Bush's Press Secretary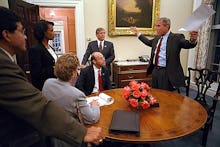 Early Thursday morning, Ari Fleischer, who served as press secretary to former President George W. Bush, began live-tweeting an exact minute-by-minute breakdown of how the events of Sept. 11 unfolded on that fateful morning 13 years ago.
Similar to what he did last year, Fleischer chronicled his firsthand experience of when President Bush and other members of the administration learned of the tragedy and what followed. Relying on notes he had written that day, which he now keeps in a bank vault, Fleischer went through the minutiae of the morning. It provides a grim and surreal reminder of how the attack took the entire country by surprise — and how the Bush administration swung into action in the hours after the attacks.
Fleischer pointed out how much things have changed since. There was no Twitter to follow the news in real time, and there were no smartphones to make communication easier. Even Air Force One, the president's veritable flying fortress, was ill-equipped at the time to deal with the circumstances, including fears of an inside attack.
As we remember the harrowing events of that day, Fleischer's memories offer a powerful firsthand account of how 9/11 caught the entire country, including President Bush, off guard:
h/t Washington Post