New Witnesses Claim Michael Brown Was Indeed Shot With His Hands Up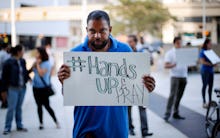 The news: Two unidentified witnesses have surfaced alleging that unarmed 18-year-old Michael Brown had his hands up when he was shot by officer Darren Wilson on Aug. 9 in Ferguson, Mo.
A cellphone video obtained by CNN shows the two men, who as contractors were some 50 feet from the shooting site for work, discussing the shooting of Brown. 
According to the two men, Wilson opened fire on Brown as he was retreating with his hands raised and then fired again 30 seconds later. This news confirms previous reports from other witnesses who were at the scene at the time of the shooting. 
Varying stories: Several other witnesses have come forward with accounts claiming that Wilson was still inside his vehicle when the first shot was fired following a tussle between Brown and the police officer. Brown then took off running, followed by Wilson. Brown allegedly raised his arms in an effort to show he was unarmed before Wilson fired his weapon repeatedly at Brown. 
Other witness accounts claim that Brown was the aggressor. In one version, Brown and Wilson physically fought for the cop's weapon before the first shot was fired. Brown then took off and verbally accosted the officer from more than 30 feet away before he allegedly charged Wilson. This is when Wilson opened fire, fatally wounding Brown with six shots. 
The takeaway: The construction workers at the scene at the time of Brown's murder, maintain that the shooting was not only unjustified but a horrifying ordeal, claiming they saw Browns "brains come out of his head," reports CNN. 
But both men agree that the unarmed teen's hands were up in the air when Wilson gunned him down. Their accounts confirm what many have long suspected about Brown's premature death, and it will hopefully help bring about some kind of solution to the ongoing tensions on Ferguson.