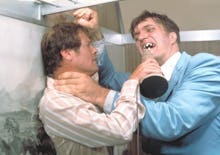 Richard Kiel, the actor best known for portraying steel-toothed villain known only as "Jaws" in two James Bond films, has died at 74.
The 7-foot-2-inch performer famously played the massive henchman who tussled with Roger Moore's James Bond in 1977's The Spy Who Loved Me and 1979's Moonraker. "His name's Jaws," quipped Moore when Jaws reappeared in Moonraker. "He kills people."
Sir Roger Moore and Richard Kiel. Image Credit: Associated Press
Here's to you, Kiel.