The Senate Just Blew a Major Setback to Campaign Finance Reform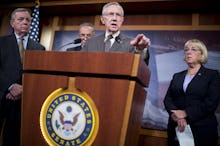 Campaign finance reform is not coming from Congress anytime soon.
A constitutional amendment introduced by Sen. Tom Udall (D-N.M.) to overturn the 2010 Citizens United Supreme Court ruling failed in the Senate Thursday in a vote that fell completely along party lines. While the measure garnered a majority of votes thanks to support from every Democrat present, 67 votes are required to adopt an amendment under the Constitution.
The amendment would have tightened campaign finance restrictions in order to reverse Citizens United, which struck down campaign spending restrictions for corporations and unions, as well as the Supreme Court's McCutcheon ruling earlier this year, which got rid of individual aggregate donation limits to political candidates.
Pushing back against Citizens United and similar rulings has been a key part of liberal rhetoric over the past few years, though Democrats are limited in their ability to change these rules.
Sen. Elizabeth Warren (D-Mass.) has been one of the more vocal supporters of the amendment, saying, "There are times when action is required to defend our great democracy against those who would see it perverted into one more rigged game where the rich and the powerful always win."
Sen. Al Franken (D-Minn.) called the ruling a "disaster" on the Senate floor Tuesday, saying, "Citizens United was one of the worst decisions in the history of the Supreme Court."
Republicans, meanwhile, held to the court's ruling that political donations are protected as freedom of speech. "I have to say it's a little disconcerting to see the Democrat-led Senate focusing on things like reducing free speech protections for the American people," Senate Minority Leader Mitch McConnell (R-Ky.) said, according to the Hill. "This is what they chose to make their top legislative priority this week? Taking an eraser to the First Amendment."
The amendment never really had a chance. Given the partisan divide and high bar to getting an amendment passed, this was extremely unlikely to ever make it through Congress. It did serve as a way for liberals like Warren and Franken to get their voices heard on the subject — and for Sen. Ted Cruz (R-Texas) to break out some charts referencing Saturday Night Live.
(Per the Washington Post, Cruz said the amendment was the "most radical proposal that has been considered by the United States Senate in the time that I have served." He's only been there since last year, so that might very well be true.)
Meanwhile, not to be outdone when it comes to empty gestures, Republicans in the House voted against Obamacare for the 53rd time.
h/t Vox