North Korea Gives the Best Reason Yet to Support Scotland's Independence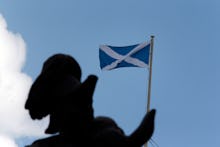 North Korea is "quietly" supporting a Yes vote for Scotland's independence in the Sept. 18 referendum. What's even more bizarre than North Korea weighing in on the purest form of freedom? The country's motivation: access to Scotch whisky. 
"I believe independence will be positive, as it will encourage personal exchanges and provide both countries with business chances," Choe Kwan-il, managing editor of Choson Sinbo, a news outlet based in Japan with strong ties to North Korea, told theTelegraph. "North Korea is rich in natural resources and we like the taste of Scotch whisky, so we can be beneficial to each other."
It's not so cut and dry: So Chung-on, the director of the International Affairs Bureau of the General Association of Korean Residents of Japan, was not sure that North Koreans even knew the Scotland referendum was happening. But he did argue that Scotland's independence is all but guaranteed and that the shift in the United Kingdom's political makeup would allow for an actual relationship between the two countries. "The result will be very important, and if the Scots do vote to become independent, then North Korea will be prepared to respond to that," he said. 
Why does North Korea care about Scotland? Since North Korea's supreme leader Kim Jong-un likes to throw back a good alcoholic beverage or two, reportedly spending more than $32 million on alcohol in 2013, North Korea's response could potentially include trades for Scotland's famous Scotch whisky.
This could be a major boon for Scotland, which has seen alcohol exports flatline in 2014. The U.S., Japan and Mexico are still big markets for Scotch, but the BBC reports that China's exports for the beverage dropped by about 30%. 
My message to the Scottish people is simple: 'We want you to stay.' Please read and share this article with friends:
Thousands of mailed-in ballots have already been submitted in Scotland. The referendum determining the country's future will be held next week. 
h/t The Telegraph