A Fox News Anchor Is Unable to Believe Women Could Be Interested in Voting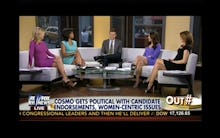 Fox News, when will you learn? 
The cable news channel, which isn't exactly know for its flattering commentary about women, made yet another insulting jibe at half the population while discussing #CosmoVotes, Cosmopolitan magazine's campaign to get women to vote in the midterm elections. 
The hosts of Outnumbered, a panel show made up of four women and one man, had a grand old time poking fun at Cosmo's history of sex tips and shoe picks. "Move over, '10 best ways to find a boyfriend!'" chortled Guy Benson, the show's lone male anchor. 
He and his co-hosts were unable to wrap their heads around the idea that — gasp — women could be interested in both sex and politics. His insipid analysis reached its peak about two and half minutes in, when he uttered this gem: 
"Is this beyond the purview of what the readership of this magazine actually wants to see? Do they want to be preached at about politics when they really just want to check out the latest fashions and these wonderful shoes you guys are all wearing?"
His co-anchors laughed in response. Cosmo itself wrote a takedown of the segment, noting, "Fox News doesn't like #CosmoVotes one bit and attempted to denigrate the effort by denigrating the millions of women who read this site every single day."
America's women contain multitudes. The implication that a woman cannot be invested in both the shoes on her feet and the politicians on her ballot is ridiculous at best and deeply offensive at worst. Cosmo is simply trying to plug a very important gap that exists in politics today — voter participation of young, unmarried women. 
As NPR reported in May, the rate of young female voters dropped 20 percentage points between 2008 and 2010, and it's likely to do the same between 2012 and 2014. 
Try harder, Fox. Next time you take a potshot at an "explicitly, aggressively left-wing effort" (Benson's words), make sure you're not also offending a giant portion of the population. Don't worry — we can handle all these big, complicated political ideas just fine. 
h/t Cosmopolitan