'Saturday Night Live' Just Hired Its First Black 'Weekend Update' Host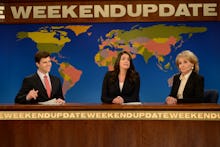 Forty years into Saturday Night Live's historic run and the show has finally decided to put an African-American man behind its legendary news desk of "Weekend Update." Comedian, Daily Show correspondent and SNL cast member Michael Che will join Colin Jost as the black half of the show's first-ever two man operation. He'll be stepping in for Cecily Strong, who, after a season of supporting Seth Meyers and then Jost, requested to be taken out of the segment in order to appear in more sketches.
SNL creator, executive producer and comedy godfather Lorne Michaels described Che to the New York Times as "a strong writer" and "really funny." Che spent last season writing for the show and forming a "close relationship" with head writer Jost before becoming a Daily Show fixture in June of this year. In the stand-up world, he's best known for his laid-back delivery — and for being named by Variety as one of the 10 comics to watch in 2013. How fortuitous of them.
Here's an instant classic from The Daily Show, in which Che skewered the inescapable presence of violence against black people:
Saturday Night Live is, of course, no stranger to controversy surrounding race. The show has faced years of hot water for not having enough diversity, particularly African-American women. Sasheer Zamata joined the cast mid-last year, after a round of shockingly white hires (many of whom have since been fired). SNL has had several African-American cast members throughout its history, but the closest they've come to breaking up the whiteness of "Weekend Update" has been with Horatio Sanz, who filled in for Tina Fey in 2005 for a few episodes.
While Lorne Michaels is going to do what Lorne Michaels wants to do, it's promising to see him make strides to bring SNL up to speed with modern America. As the show hits middle age, if it wants to keep its edge (and ratings), it has to stay relevant. "Weekend Update," which is the show's ripest platform for news satire, certainly needed this.