Everyone Your Favorite Author Slept With, in One Extremely Nerdy Chart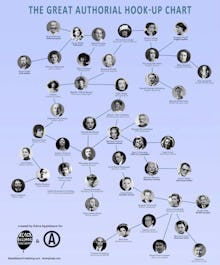 Black Balloon Publishing's blog, The Airship.
Well, this is an aspect of literary history your high school English teacher certainly didn't cover in class: the classic-author hookup scene.
If you want a more intimate look at some of your favorite early 20th-century creative figures, culture blog the Airship (run by Black Balloon Publishing) has quite a gift for you: a flowchart documenting their hookup scene.
The chart is a veritable who's who of the turn-of-the-century celebrity scene, including literary legends (Virginia Woolf, Oscar Wilde, Walt Whitman), Golden Age stars (Marilyn Monroe, Greta Garbo, Marlene Dietrich), and other cultural icons. If there's any takeaway from the chart, it's this: Smart, talented people like to sleep with each other.
Check out the chart below (click here for a bigger version):
While it may feel sacrilegious to imagine your favorite writers seducing each other, these hookups have resulted in great, lasting art. For instance, Woolf based her semi-biographical novel Orlando on her lover Vita Sackville-West, while Oscar Wilde's De Profundis is a recounting of his tumultuous relationship with Lord Alfred Douglas. And Wilde ended up writing this immortal line after a brief encounter with Walt Whitman: "I have the kiss of Walt Whitman still on my lips."
It may feel strange to see John F. Kennedy and Roald Dahl on the same hookup chart, but one thing is clear: The nerds had the most interesting affairs.