Watch Jennifer Lawrence and Bradley Cooper in the First Trailer for Their New Movie Together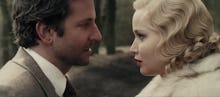 Serena has had a long and complicated history, and now, after years of work, it has its first trailer. Originally, it was to be directed by Darren Aronofsky and star Angelina Jolie, but both left the project. In 2012, Oscar-winning director Susanne Bier came aboard, bringing Jennifer Lawrence and Bradley Cooper with her.  
The film is an adaptation of the 2008 Ron Rash novel, which takes place in 1929 North Carolina and tells the story of newlyweds George Pemberton and his wife, Serena. They work together toward building a massive timber company, taking any and all measures to achieve success, no matter how dangerous or unethical. When it's discovered that Serena cannot bear children, the couple turn on one another, and Serena takes her anger out on George's illegitimate son. Vulture compared the intense Serena role to Lady Macbeth.
Of course, for many, the excitement is in the reunion of Cooper and Lawrence, who starred together in Silver Linings Playbook and American Hustle. To put in perspective just how long Serena has been in the works, Lawrence and Cooper were cast in the film nearly a year before Silver Linings Playbook hit theaters. 
The film is set for debut at the London Film Festival next month and will then open in the U.K., though we don't have a U.S. release date yet 
Needless to say, there's a lot of curiosity surrounding this mysterious movie.