One Tweet Perfectly Sums Up Everything Wrong With Professional Sports Today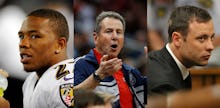 Professional sports have been in the spotlight for all the wrong reasons lately, and even those who are deeply entrenched in it have taken notice:
Jemele Hill, a co-host of ESPN's Numbers Never Lie, has spent her entire 17-year career as a sports journalist. So when somebody like her publicly highlights what's wrong with the industry, it's worth paying attention to. 
Though she only explicitly references one incident — the Oscar Pistorius murder trial — it's easy to guess the other two she's talking about. The first is the violent encounter between ex-Baltimore Raven Ray Rice and his wife, in which he knocked her unconscious in an elevator. The second is the racist email that Atlanta Hawks controlling owner Bruce Levenson sent to the team's president, complaining that "the black crowd scared away the whites and there are simply not enough affluent black fans to build a signficant [sic] season ticket base."
Hill hit the nail on the head. While the conventional sports narrative of "victory in the face of adversity" is the bread and butter of sports journalism, these stories have captured our attention for the exact opposite reason. They're much different than typical "bad news" that comes like performance-enhancing drugs, famous athletes stripped of their medals or love boat scandals. They're a mirror for major cultural problems in America and abroad — and an indication that something is deeply wrong in the wide world of professional sports.
More troubling, many of the responses to these incidents are the opposite of what they should be, particularly the ones from people in power. The NFL, for example, was heavily criticized for its response to the Rice incident, and even their (eventual) decision to suspend him was met with disdain. The message sent by the NFL's convoluted response to the scandal: Don't expect anything to change soon.
It's just more of the same. These occurrences certainly aren't outliers. The NBA found itself embroiled in controversy just a few months ago, when former Los Angeles Clippers owner Donald Sterling was caught on tape making disgusting, racist comments.
Domestic abuse in professional sports was happening long before Rice, and unfortunately, it won't end with him. As the New York Times' Karen Crouse notes, "Brett Myers, a pitcher for the Philadelphia Phillies, was charged with assaulting his wife on a Boston street in 2006 after witnesses said he struck her in the face and pulled her hair. The Phillies put him on the mound as their starting pitcher about 36 hours later."
When you consistently fluff up someone's ego, particularly where money, fame and professional accomplishments are concerned, you risk transforming them into someone who believes rules and consequences don't apply to them.