Mexican Cartels Are Taking Tips From 'Weeds'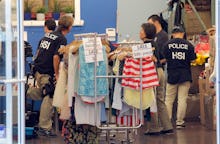 Mexico's cartels are learning a thing or two from Nancy Botwin, the suburban housewife-cum-drug baroness of Showtime's Weeds.
In the most harrowing scheme detailed in the three indictments released Wednesday the Sinaloa cartel allegedly directed ransom money to be delivered to Q.T. Fashion Inc., a maternity apparel wholesaler on East 12th Street.
If this sounds familiar, it should: A maternity store was a major part of a drug-smuggling operation in the fourth season of Weeds, in which Nancy Botwin (played by Mary-Louise Parker) manages a maternity store in a strip mall on the U.S.-Mexico border as cover for a secret tunnel used to move drugs and money.
There are few things better than when life imitates art.