Want to Be the Next NFL Commissioner? This Flowchart Shows You How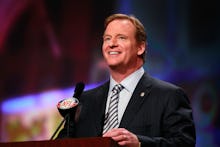 Are you a suitable candidate to be the NFL commissioner? Playboy has created a flowchart to help you decide.
With current NFL Commissioner Roger Goodell facing a ceaseless firestorm of criticism in recent weeks, many are calling for his resignation or outright termination. It seems like his days in charge may truly be numbered. Thus begins the search for his successor.
Take a look to see if it could be you:
Image Credit: Playboy.com
This chart, which reads like a lowlight reel, is basically perfect and touches on all of the commissioner's woefully inadequate reactions to the controversies that have come to define his tenure.
It's all there. His craven mishandling of head trauma issues, the Redskins' name change debacle, backward and outdated drug policies, absurd suspension rulings, hard-line penny-pinching on the owners' behalf, and, of course, Ray Rice. Every attempt was made to put the league's brand and bottom line above players and fans.
And both could now been compromised to previously inconceivable levels.
h/t Playboy