Misty Copeland's New Book Has Inspiring Advice For Young Athletic Girls Everywhere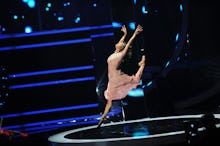 "Knowing that it's never been done before, it makes me fight even harder."
Ballerina Misty Copeland, the first black soloist for the American Ballet Theatre in two decades, has had to battle stereotypes practically her entire career. Now, the amazing dancer and athlete is sharing some of her insights, so that other little girls, too, might be able to follow in her graceful en pointe footsteps.
Copeland, 31, who was recently featured in an immensely popular Under Armour ad highlighting her perseverance in the face of adversity, knows what it feels like to be the one who doesn't fit in. Her new children's book, Firebird, named after the iconic role for which she danced for ABT in 2012, aims to inspire other African-American girls, especially those who, like her, faced resistance on the road to their dreams.
"I've seen it happen with these girls that come to me, and some of them are really broken because they've been told 'no' so many times," Copeland told NPR. "Especially young kids need to hear those words because I think that if you say 'maybe' or 'it's possible,' I think it's very easy for them to interpret that as 'no, it's not.'" 
In particular, Copeland struggled to overcome stereotypes about her body type. People told her that she was "too muscular" and not "lean enough" because she was African-American, she told NPR. "Usually they say, 'Oh, they have flat feet so they don't have the flexibility that it takes to create the line a point shoe.'"
While Copeland's prowess as a dancer has been known in dance circles for some time, her special brand of graceful strength — and with it, her reputation as an athlete — became  publicly known after the Under Armor ad went viral. The company's decision to recognize Copeland alongside more traditional spokespeople from sports such as football or baseball was a beautiful tribute to all of the women — and men — who train just as hard, and are just as athletic, as their peers in professional leagues.
Image Credit: Getty
Copeland told NPR that she's dedicated Firebird to her mentor Raven Wilkinson, the first African-American ballerina to tour the country who also faced widespread discrimination and threats, including from the Ku Klux Klan.
"There's just something about ballet that people just envision this very pale Russian extremely tall woman as the swan," Copeland said during one of her recent tours. "And typically people don't see African-American women as ballerinas because they don't think that we're soft and feminine and sylph-like. They see us as very powerful and aggressive. And so I want to have the opportunity to prove them wrong."
A trailblazer in many ways, Copeland said she hopes young people will be able continue to stand tall in the face of prejudice, of all kinds. 
"My mission, my voice, my story, my message is not for them [critics]," she said. "I think it's more important to think of the people I am influencing and helping to see a broader picture."