Leading House Democrat Says 'Sexting' Is the Key To Getting Out The Vote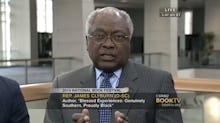 C-SPAN
If you get a text message from Rep. Jim Clyburn sometime before Election Day, you might want to ignore it.
The third-ranking Democrat in the House was answering questions on C-SPAN when he referred to "sexting" as a way to reach out to potential voters before Election Day.
Take a look:
Clyburn's slipup, caught by the Daily Caller, came in response to a viewer who called in with concern over the shootings of Trayvon Martin and Michael Brown, asking how those affected could use social media to organize.
"Use the tools that we have," he replied. "We've got great tools to communicate about everything else. We can text. What do we call it? Sexting. Let's do some voting, organizing over the Internet. We've got the tools. Let's use them for a new massive movement that will make sure that we can have in November 2014 the kind of turnout at the polls that we had in 2012 in November."
It's going to take more than a harmless (though hilarious) mix-up to prevent Clyburn from re-election. Roll Call rates his seat as "safe" for the upcoming election. (The other six districts in South Carolina, per Roll Call, are "safe" Republican wins.)
Getting the word out to voters is a bigger deal one state over where, as Slate explains, Democrats are trying to use big minority-voter registration numbers to turn Georgia blue. Michelle Nunn, the party's Senate candidate, and Jason Carter, its gubernatorial one, are locked in tight races that could end up in upset victories if Dems get enough new voters out to the polls in November.
The strategy in Georgia, one would assume, does not involve sexting voters.